What Time Does 'No Man's Sky' Unlock for PC?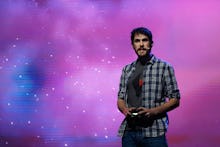 If you're desperate to explore the 18 quintillion full-size planets in No Man's Sky but you don't have a Playstation 4, patience! No Man's Sky for PC is available, following some vague tweets from founder Sean Murray. 
But you may want to wait — it's reportedly plagued with performance issues. 
Murray tweeted Friday morning that No Man's Sky would release on PC today, adding Friday afternoon that they are "bracing for impact on PC," citing server issues for the delay. (If you play Pokémon Go, you are then familiar with the plague of server crashes). "Be aware there is a lot of you," Murray tweeted — meaning, if a ton of players flood the game at once, the servers may crash. 
But oh boy, today!
The PC version of No Man's Sky is available for purchase on Steam, but as Polygon reported, you may not want to buy it just yet — it's evident in the game's discussion forum on Steam that it's not a flawless release. Players are complaining about the PC version of the game "running super slow", its poor performance and it just not loading at all.  As Murray tweeted Friday afternoon, it's due to the "frankly insane amount of people" trying to run the game "within 15 minutes of it releasing." They are working on it. For those who already purchased the PC version, Murray suggests updating and restarting the game.
Help us, Sean. 
August 12, 2016, 2:27 p.m.: This story has been updated.