5 Male Olympians Who Just Need to Put a Shirt On and Cover Up, Goddammit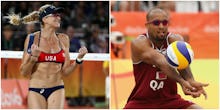 The Olympics are a time for celebrating the athleticism of the human body and the glory of achieving monumental feats in the name of pride for your country. It is also a time for thirsting after the impossibly lithe, dreadlocked volleyball player from Belarus — and, if you're a certain type of person, to tell them to put some goddamn clothes on. 
Every year at the Olympics, there's another controversy over female athletes being body shamed, told they're showing too much skin or that they don't look "feminine" enough. The controversy over the women's beach volleyball team wearing bikinis, for instance, has been raging for so long that Olympian Kerri Walsh Jennings felt compelled to issue a statement about it this year.
"When it comes to beach volleyball, we're playing in 100-degree-plus weather," the 37-year-old said. "I think we've just gotta educate the public, take it with a grain of salt and make sure that we're working hard and not playing up the sex appeal because it's inherent anyway." 
Interestingly, however, no male Olympian has ever been told to cover up their sex appeal while competing — despite the fact that some of them, truth be told, dress like pretty big sluts. Here are some dude Olympians who are totally asking for it.
1. Jefferson Santos Pereira of Qatar
Santo Pereira, a Brazilian who's a member of Qatar's male volleyball team, lost to the United States in the men's tournament. It's easy to see why — he was too busy thinking about how to showcase the hair on his forearms. Get a shirt with some goddamn sleeves, Jefferson. No one wants to see that bush. 
2. Michael Phelps
Although Phelps recently made Olympic history after winning his 22nd gold medal, the mainstream media has been oddly silent about the fact that he's gone totally topless during the entire competition. We know #FreeTheNipple is popular, but this is hardly appropriate. Put a shirt on, Mike. Children are watching at home.
3. Arthur Mariano of Brazil 
Sure, female gymnasts get criticized all the time for their provocative and sparkly attire (especially if it's just a tiny bit see-through, as the Daily Mail helpfully pointed out was the case with Uzbekistan's 
But! Has no one noticed how much dick cleavage Arthur Mariano was flashing on the pommel horse the other night? Like, are we at the Olympics, or are we doing poppers in a Subway bathroom in the Castro? Please purchase a lengthier pair of shorts, sir, or at the very least some fashion tape so you can tape down your scrotum beforehand. 
4. Salvador of Portugal
This man's bare knees are giving me a massive clitoral erection. Sir, please cover them up, or else I think I might become unable to control myself. 
5. These guys who are fencing
...excuse me for a second, for I just came.