Frank Ocean's 'Boys Don't Cry' Will Drop in the Next '24 to 72 Hours,' According to Report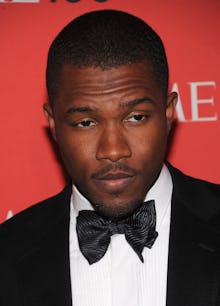 First it was July 2015 . Then July 2016. Then August 5, 2016. Every release date that Frank Ocean has set for Boys Don't Cry, he's missed, and missed badly. But the newest release date could be the most reliable we've had yet. It wasn't offered in a hashtag or a library card. It reportedly comes straight from the top, from the provider that will be responsible for getting the album out into the world: Apple.
Friday, taking a cue from users in KanyeToThe and Reddit forums, Pigeons and Planes contacted Apple via its customer rep chat rooms, attempting to confirm a rumor that the album would be coming within the next 24 to 72 hours. 
"Yes that's what we can say about it!" the nameless customer service rep told the publication, before offering a free movie rental to compensate for the reporter's ongoing disappointment. Read the conversation here. 
Others, without the reporting chops, only got the movie rental.
Thankfully, users won't have to wait in front of their computers watching Ocean's endless livestream the entire weekend for the drop. One brilliant coder with the pseudonym Shahzeb has set up a website that will text users the second Ocean's album and its accompanying materials surfaces. 
According to the New York Times piece that initially reported the August 5 deadline, the album is thought to be coming with a "major video" and an accompanying magazine. A few images of that may have already leaked.
We'll see if any of these reports hold any weight come Monday, or if it's just more aimless, baseless hype. The clock is ticking, Frank.