The Gabby Douglas National Anthem Haters Just Earned a "Gold Medal in 'Petty'"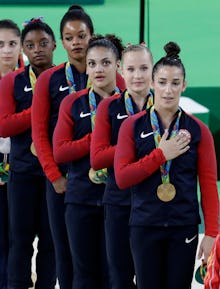 At Tuesday night's medal ceremony for the United States gymnastics team, all of the members of the so-called "Final Five" dutifully placed their hands over their hearts as the National Anthem blared from the auditorium speakers, honoring their golden victory for the women's team all-around.
Well, four of them did. 
Gabby Douglas, on the other hand, kept her hands at her sides for the anthem's duration. Her failure to adopt the same posture as her teammates ruffled the feathers of some, who considered her apparent lack of deference "un-American".
On Thursday night's episode of The Nightly Show with Larry Wilmore, contributor Franchesca Ramsey laid into those tweeting their objections to Douglas' awards ceremony decorum.
"Not patriotic enough? Homegirl literally did backflips wearing our nation's flag covered in rhinestones," Ramsey said to one Twitter user. "Look, she's completely showing respect by standing there proudly during the national anthem. How about you show some respect for the person who made it possible for the national anthem to be playing in the first place?"
But the "gold medal in 'petty'" — as Ramsey dubbed it — was awarded to Twitter users who went one step further, calling out Douglas for her hairstyle.
In response to a tweet in which the user lamented that they "just want a black girl to do Gabby's hair, bro," Ramsey responded: "Guess what? A black girl did do Gabby's hair, 'bro,' — Gabby."
For her part, the 20-year-old gymnast took to Twitter to address the controversy on Tuesday evening, noting that she "always stand[s] at attention out of respect for our country whenever the national anthem is played."
"I never meant any disrespect and apologize if I offended anyone," she wrote.
If grace in the face of Twitter trolling were an Olympic sport, Gabby would be taking home all the medals.
Watch the full segment below: