Brendan Dassey of Netflix's 'Making a Murderer' Just Had His Conviction Overturned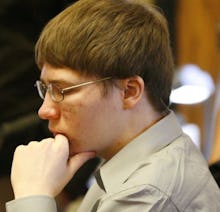 On Friday, a judge from the U.S. District Court of Milwaukee overturned the conviction of Brendan Dassey, the 26-year-old who was found guilty of helping his uncle Steven Avery kill Teresa Halbach in 2005. 
According to the Associated Press, Dassey will be released in 90 days unless there's an appeal to his case.
Dassey's story was peripheral to the Netflix hit series Making a Murderer, which followed the investigation into whether Avery had killed Halbach, allegations which surfaced shortly after Avery spent 18 years in prison for a wrongful conviction. 
While Avery's case was deemed contentious for suspicions of planted evidence, Dassey's conviction sparked controversy as it appeared authorities had forced a confession out of the then 16-year-old.