21 food documentaries on Netflix you should binge-watch this weekend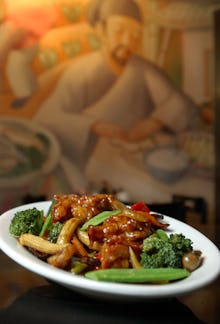 We live in an golden era of food films, visually stunning buffets of information. There are movies for every interest, from those that tackle tough issues of our time like food sustainability and childhood obesity to films that dive deep into the histories of beloved dishes. Others offer up-close looks behind the scenes with some of the best chefs in the world or into the highly intricate world of wine. 
And now, thanks to streaming services, they're available with just a click of a button; you can watch them anywhere, anytime, and wearing pants is not required. 
We sorted through the cornucopia of food documentaries available on Netflix and narrowed it down to the 21 movies you must watch, separated by what kind of information you might be craving. And before you bust out the popcorn, we've paired each film with a snack that'll take your viewing experience to a whole new delicious level. 
For history buffs and knowledge fiends 
1. The Search for General Tso
If you've ever looked a Chinese takeout menu and wondered, "Who is General Tso and why does everyone love his chicken dish so much?," this documentary is for you. The film takes a look at the somewhat dubious origin story of the popular sweet-and-spicy fried chicken dish, the rise of American-Chinese food and whether not the general was a real person. It will definitely have you craving what you see on-screen, so maybe plan to order in. 
Pair with: Chinese take-out, duh. Preferably General Tso's Chicken and some spring rolls.
2. Cooked 
Acclaimed food writer Michael Pollan transformed his popular book Cooked into a four-part docu-series. The skillfully shot series includes appearances from instant noodle scientists, cheese-making nuns and even grandmas from the Australian outback. Pollan also spends a good chunk of time making a killer loaf of sourdough bread that will definitely inspire you to make your own. 
Pair with: Sourdough toast. 
3. Sushi: The Global Catch 
If you're a sushi enthusiast who'd rather live in ignorance than know where your fish comes from, definitely don't watch this documentary. Sushi's popularity has exploded globally, which is great for everyone's taste buds, but not the best for the environment. The film takes a look at the effect of the sushi boom and the fishing industry and will make you want to switch to avocado maki rolls for a while. 
Pair with: Avocado rolls and miso soup. 
4. The Irish Pub
This documentary explores the concept of the pub, a storied institution in Ireland. Filmmaker Alex Fegan takes a deep dive into the history of Irish pubs and momentous occasions that took place within their walls by gathering stories from bar owners from across the country. The documentary serves as a history lesson on both the popular watering hole and Ireland as a country.
Pair with: A pint of Guinness and fish and chips. 
For health nuts 
1. Fed Up
Filmmakers Stephanie Soechtig and Laurie Lennard (who's also behind the environmental documentary An Inconvenient Truth) tune way in to America's sugar problem, particularly the amount that adds up in kids' meals. It's an eye-opening look at the role of sugar industry lobbyists during the rise of childhood obesity in the U.S. News anchor Katie Couric serves as narrator and co-producer. 
Pair with: A crudité platter. 
2. Food, Inc.
This Oscar-nominated documentary is perfect for those who want to better understand the impact of food as a giant, commercialized industry. While it isn't the only documentary on Netflix to focus on such topics, it's done in a very authoritative manner that will definitely stick with you. Food, Inc. won't give you warm-fuzzies inside, but it will make you a more enlightened consumer. 
Pair with: Organic fruit bowl. 
3.  Hungry for a Change
If you ever needed motivation to stick to your resolution to eat healthier, turn on this documentary. It reveals the secrets that the diet, weight loss and food industries are keeping from consumers to get them hooked to their products and programs. The filmmakers called upon a number of nutrition and food experts, including Dr. Alejandro Junger and chef Jamie Oliver, to explore the dirty details.
Pair with: Kale salad. 
4. Super Size Me
Super Size Me, one of the most famous food documentaries of all time, follows TV show host Morgan Spurlock as he attempts to live off of just McDonald's for one full month. Unsurprisingly, his health changes dramatically and his vegan girlfriend is definitely not lovin' it. McDonald's enthusiasts might not love the documentary either. 
Pair with: Burger King. (Or a homemade Big Mac. Or just, like, a plain potato.)
5. Fat, Sick and Nearly Dead 
It's possible the juicing trend can be traced back to this 2010 documentary. It follows Joe Cross, an overweight man suffering from an autoimmune disease, as he tries to heal himself by only consuming fresh fruit and vegetable juices for 60 days. He does this while driving across the U.S. The movie might not convince you to turn to a life of juicing, but it might make you feel better about paying $11 for that morning elixir.
Pair with: A big green juice. 
6. Forks Over Knives 
This movie might convince even the staunchest of carnivores to adopt a more animal-compassionate diet. Physician Caldwell Esselstyn and professor T. Colin Campbell spend the film offering up a number of relatively convincing arguments about how disease and obesity can be treated with a plant-based diet — all while managing to stay away from being preachy. The film definitely doesn't oversimplify the science, so be prepared to put your thinking cap on. 
Pair with: A tofu and veggie stir fry. 
7. Soul Food Junkies 
Soul food — which includes dishes like mac and cheese, fried chicken and collard greens — has a reputation for being delicious, but also unhealthy. Filmmaker Byron Hurt, who grew up in Georgia, decided to take a look at how a diet heavy on salt and fat can have impact a person's health. Hurt opens up about the death of his father who passed away from pancreatic cancer, which he believes was brought on his father's diet. The film also takes a look at a new generation of chefs hoping to give soul food a healthy makeover. 
Pair with: A lightened-up macaroni and cheese. 
For food-porn addicts 
1. Jiro Dreams of Sushi
If you haven't seen Jiro Dreams of Sushi, skip everything else on the list and watch this documentary first. The film, which follows the now 90-year-old sushi master Jiro Ono, has quickly become a modern day classic, thanks, in part, to its gorgeous cinematography. The slow motion and close-up shots of Ono's skilled sushi making will make you question why you ever bought those grocery store California rolls. The imagery will also make you want to buy a one-way ticket to Japan to dine at Ono's restaurant, Sukiyabashi Jiro, which is located inside of a Tokyo subway station. 
Pair with: Good sashimi. 
2. Chef's Table
While Chef's Table isn't technically a documentary, the Netflix series should be required watching for anyone who loves food. The series, which will release its third season in September 2016, is directed by David Gelb of Jiro Dreams of Sushi fame, so expect plenty of stunning visuals. Each episode profiles a renowned chef from around the world including Massimo Bottura (whose restaurant was ranked the best in the world this year), Enrique Olvera and Dominique Crenn. 
Pair with: The prettiest dish you know how to make. 
3. For Grace 
Owning a renowned restaurant can look like a beautiful life on the outside. How challenging can life really be when you live your live surrounded by stunning plates of food? For Grace, which follows chef Curtis Duffy as he builds his ambitious Chicago restaurant reveals a whole new side of the story. The very personal documentary examines just how much Duffy had to sacrifice and overcome in his personal life to achieve his professional dreams. Definitely keep a box of tissues handy when watching. 
Pair with: Deep dish pizza and Chicago-style dogs. 
For anyone who just wants entertainment
1. Somm
If you enjoy seeing grown men cry (and also learning about wine), press play on Somm. The movie follows four sommeliers as they prepare to take the tough and prestigious Master Sommelier test, which very few people manage to pass. There's plenty of studying, wine swirling and dropping of strange wine descriptors like "musky with a hint of brie and mellow olive overtones." 
Pair with: An interesting, but affordable, bottle of wine. 
2. Steak Revolution
Director Franck Ribiere lived every carnivore's dream, traveling the world in search of the perfect cut of meat for this documentary. The film, which is over two hours long, explores what goes into a great piece of steak, from the farm to the butcher block to the cooking process. Viewers can expect plenty of meaty shots of well, meat. 
Pair with: A piece of grass-fed steak. 
3. Foodies 
Who exactly are the people who drop thousands of dollars to fly to different country just to eat at a restaurant? You'll find out in Foodies. The movie offers a closer look at a group of international food bloggers who are obsessed with eating at the world's best, and often most expensive, restaurants. 
Pair with: Champagne and caviar.
For thirsty folks
1. Somm: Into the Bottle
Made by the team behind the film Somm, Somm: Into the Bottle focuses less on the people who serve wine and more on wine itself. The film explores what wine really is through 10 different mini stories with titles like "History," "The Cost," "The Winemaker" and "The Barrels." Brace for plenty of dusty cellars, cinematic shots of the French countryside and people drinking some seriously old and expensive bottles. 
Pair with: That fancy bottle of wine you've been saving, and some fancy cheese. 
2. The Birth of Sake
Sake, or Japanese rice wine, is incredibly difficult to make. This visually rich and highly stylized documentary follows workers in North Japan, who endure challenging working conditions (like frigid temperatures) to make the wine the way it has been made for the past 2,000 years. The movie will give viewers a new appreciation for the drink and the amount of work that goes into making it. 
Pair with: A bottle of sake and some edamame.
3. Crafting a Nation
Over the past decade, craft beer has evolved into a giant industry in the U.S., but starting a brewery is not an easy process. The documentary paints a vivid pictures of just how much time, money and sheer determination brewery owners put into their businesses. If you're hoping to learn a lot about the beer making process, however, you might want to seek out another documentary. This film focuses mainly on the business and personal aspects of working in the craft beer industry.
Pair with: Your favorite craft beer and some pretzels.
4. A Year in Burgundy
Burgundy, France, is one of the world's greatest wine making regions. This documentary looks into the daily lives of seven notable winemakers over a year's time. It's packed with over-the-top lines about wine and has a piano score that'll make the whole viewing experience feel positively dramatic. The movie is also entirely in French, so if you're drinking wine while watching, understand that the subtitles might get blurrier and blurrier. 
Pair with: A good bottle of pinot noir from France.