Secretly Recorded Video Shows a Violent Clash Between Amber Heard and Johnny Depp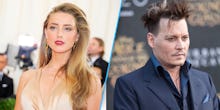 Video recorded by Amber Heard, apparently without Johnny Depp's foreknowledge, shows Depp on what appears to be a drunken bender, hurling wine glasses and then snatching the camera away. 
The video, which TMZ leaked online Friday night, shows a violent exchange between the Hollywood couple, who are currently embroiled in messy divorce proceedings amid allegations of domestic abuse.
"What happened?" Heard asks. By way of an answer, Depp reaches for a wine glass — which he later smashes.
At one point, Depp grabs a large bottle of wine sitting on the counter and says, "You want to see crazy? I'll give you crazy," and fills an oversized glass.
Heard discreetly trains the camera on the bottle and asks Depp, "Have you drunk this whole thing this morning?" At which point Depp notices the camera and snatches it.
 According to TMZ's anonymous sources linked to Depp's camp, the video is "heavily edited" and wasn't recorded with Depp's consent, which likely makes it inadmissible in court. 
TMZ reports that the video was shot before the May 21 altercation during which Heard claims Depp hit her in the cheek and eye with a cellphone.
Heard, who filed for divorce officially on May 23, has sparked a fierce national conversation about the high stakes of believing the victims of domestic violence.
Her initial allegations of abuse against Depp were met with swift backlash online from those who believed that she was just trying to bolster her case for alimony payments in her divorce proceedings.
However, as Mic's Jenny Kutner puts it, "When someone claims they've been brutalized by a person in a position of greater power ... the very least we can do — short of simply believing them — is assume they're not operating in bad faith."