CNN Used Michigan Muslim Woman's Face in Video About ISIS Recruitment — She's Not in ISIS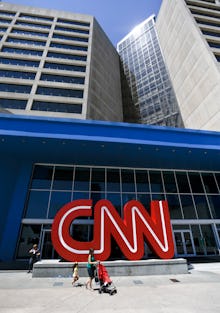 A Michigan Muslim family was left shocked on Thursday when they recognized the face of their family's matriarch in a CNN video about jihadi recruitment in France on CNN's website, according to the Daily Dot. 
The subject of the video is Omar Omsen, the man whom CNN reports French authorities hold responsible for "recruiting about 80% of French-speaking jihadis heading to Syria and Iraq," according to CNN. 
The woman's husband recognized his wife's face in the clip. Though she has no ties to the Islamic State, the woman's face was featured in the clip for a few seconds. 
Daily Dot confirmed the identity of the woman, whose family sought help from the American-Arab Anti-Discrimination Committee in getting CNN to remove the video and issue a retraction. The website withheld her identity at the woman's request. 
"Imagine seeing a video about ISIS recruitment, and suddenly, there's your picture," Abed A. Ayoub, policy director at the American-Arab Anti-Discrimination Committe, told the Daily Dot. "She was shocked at first, angry, and there's a sense of disbelief by her husband as well."
According to the Dot, CNN acquired the footage from a decade-old video of the woman singing the U.S. national anthem, with the American flag waving behind her. The family doesn't know how they found the footage or how they deemed it appropriate for a video about ISIS recruitment in Europe. As of Thursday afternoon, the video was taken down. 
According to Ayoub, the family is concerned for their children's safety, should people they know begin to suspect the woman of being a terrorist. 
"These mistakes have consequences," Ayoub told the Dot. The ADC has requested a meeting with CNN to prevent future incidents like these from occurring. 
The Daily Dot said they are further investigating whether the footage may have been used by ISIS and later republished by CNN.