Chicago Mom Sues Public School System for Handcuffing 6-Year-Old Girl After Taking Candy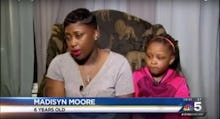 The mother of a six-year-old who was handcuffed in school for allegedly taking a piece of candy filed a lawsuit against Chicago Public School on Thursday, WLS reports. 
Marlena Wordlow is seeking justice in court after she said she was given no justice by the school system. Wordlow's daughter, Madisyn Moore, was handcuffed and left under a stairwell by the school's boilers for more than an hour in March, according to Wordlow. According to Wordlow, Moore is also a special needs student.
"He was pulling Madisyn from under the stairs with her hands behind her back, I don't know how long she was under there, but she was sweating. She still had on a jacket. It was warm outside, so I'm trying to figure out why she still had her jacket on," Wordlow told WLS.
"He said 'I'm teaching her a fucking lesson. She took a piece of candy and I handcuffed her under the stairs,'" Wordlow told the Daily News.
In the lawsuit, Wordlow alleges the guard used excessive force, falsely imprisoned her daughter and intentionally inflicted emotional distress. According to Wordlow, Moore is now afraid of the dark and terrified of people in police uniforms. 
According to the Daily News, a statement from Chicago Public Schools says the guard's job was terminated and administrators placed a "do not hire" note on his personnel file. 
Moore's story is another example of black students who are overly disciplined by school systems, a phenomenon with harmful consequences. In May, a Virginia student was handcuffed for "stealing" a 65-cent milk carton that he was supposed to get for free as part of his school's free lunch program. In the same month, a black North Carolina student was suspended for smelling like marijuana, though they could not find any of the substance on her. 
Young black women often face severe punishment in schools, which can lead to what some researchers call "pushout," and interactions with the criminal justice system. Black girls are six times more likely to get suspended than white girls and racial disparities in punishment are greater for black girls than black boys.