Trump Campaign Office Reportedly Opening Across the Street From Pulse Nightclub Location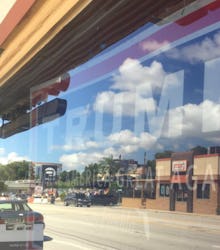 You always want to give new neighbors a chance, but not when it's this particular guy on this particular street. 
According to the Orlando Sentinel, dozens of offices across Florida supporting the Trump campaign are opening soon, and one will be across the street from the memorial currently standing outside Pulse nightclub. Signs backing Trump were displayed in a building's doors and windows. They read "Hispanos con Trump" and "The Silent Majority Stands With Trump." The largest mass shooting in modern US history occurred at Pulse nightclub in June, where 49 people, mostly gay and Latino, died. 
According to the Sentinel, whether the office is run by Trump or a Republican group supporting Trump is unclear. 
"The Trump campaign is in the process of opening 25 offices across the state," campaign spokesman David Chiokadze told the Sentinel. "However, we are running a coordinated campaign with [the Republican National Committee] and the local county [Republican Executive Committees]. So there will be many more offices in addition to our 25. All of which exist to support Donald Trump."
While Trump lives under the delusion that gay men love him, he garnered hefty criticism this week for attending an openly anti-gay evangelical gathering in Orlando this Thursday, two months after the Pulse shooting. He appeared along with former rival Marco Rubio. 
In a blog on Equality Florida's website, Pulse shooting survivor Brandon Wolf criticized Trump for his actions. 
"From Donald Trump, we can expect more of the same. More bigotry, more casual allusions to violence, more egotistical bluster. ... While our politicians cuddle up with the NRA and fall at the feet of violent bigots, we remain steadfast and strong. Because love ALWAYS trumps hate."
In the wake of the Pulse shooting, Trump has only courted LGBT voters when he pits them against Muslim Americans. At the Republican National Convention in Cleveland, Trump used divisive rhetoric that promised to protect LGBT Americans from the Islamic State. 
"As your president, I will do everything in my power to protect our LGBTQ citizens from the violence and oppression of a hateful foreign ideology," Trump said. 
He added, "As a Republican, it's so nice to hear you cheering for what I just said."
(Trump did not mention whether he would protect LGBT Americans from his stridently anti-gay VP nominee Mike Pence.)
As is now widely known, the Pulse nightclub shooting took place on Latino night, and Trump has a long record of anti-Latino rhetoric on his campaign trail. Trump's polling numbers among Latinos are the worst for a Republican in two decades. 
Given that the Pulse shooting affected Orlando's gay community, Latino community and Muslim community, it's unclear how Trump plans to garner their votes while pitting them against one another.