Claremont Students of Color Sparked an Intense Debate for Seeking Nonwhite Roommates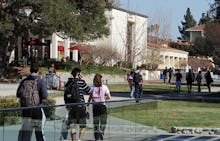 When people think back on their four (or more) years at college, sometimes they don't remember classes, professor's names or books they read — but they always remember good and bad roommates. 
This week, southern California's Claremont Colleges became the site of an intense racial debate around a Facebook post in which three students of color sought other nonwhite roommates for off-campus housing, the Guardian reports. 
After a year of intense debate over safe spaces for students of color at the five colleges that comprise Claremont, three students at Claremont's Pitzer College used Facebook to find roommates for the upcoming school year and appended the post with the words "POC only," meaning they only sought people of color to live with. 
The school's newspaper, the Claremont Independent, published a news article about the post along with an image of a black man drinking from a water fountain labelled " FOR COLORED ONLY."  Conservative news outlets ran the story with inflammatory headlines saying the students "refuse to live with whites." 
"The conversation that the public is having is focused on white people and their exclusion in this housing ad," Karé Ureña, who identifies as Afro-Caribbean told the Guardian. "We want to reframe it so that it becomes a matter of students of color simply prioritizing their need for survival in the face of historical oppression in higher education."
Ureña's roommate, Isaac Tucker-Rasbury said he'd like to build a shared experience with roommates of color after living with white students this year. 
"I thought that it'd be important to cultivate a space where we feel comfortable coming home and taking care of ourselves," he said to the Guardian. 
Chance Kawar, who is both white and senior class president, said he was surprised the post received so much attention.
"It seemed like a relatively innocent Facebook post that has sparked a very big controversy," Kawar told the Guardian. 
However, Pitzer college's president, Melvin Oliver, a scholar of racial equity, said the Facebook post was "inconsistent with [Pitzer's] Mission and values," according to the Washington Post. Oliver is the first black president of one of Claremont's undergraduate colleges. 
Currently, black students make up only 5% of Pitzer's student body, and some students see the benefit in leaning on other students of color for support. 
"You're asking to live with people that look like you and kind of know where you're coming from," Jessica Saint-Fleur, a Pitzer student and member of the black student union, told the Guardian. Saint-Fleur said that camaraderie may be necessary since black students "don't really have a voice on campus."