Meet Michelle Carter — The First American Woman To Win Gold In Shot Put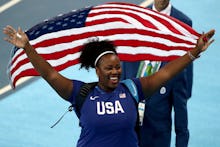 On Friday night, Michelle Carter tossed her way to a gold medal in Shot Put at the 2016 Summer Olympics in Rio de Janeiro, becoming the first woman from Team USA to ever take first place in the event and shattering the previously held American record in the process.
Her winning distance, 20.63 meters (68 feet, 8 1/4 inches) also solidified her as one half of the first-ever father-daughter duo to win individual medals in the history of Olympic Track & Field, according to USA Today.
And while Carter is undeniably impressive on the field, her body-positive attitude off of it makes her even more of a hero.
A huge believer in self-care and the owner of a makeup company called Shot Diva, Carter says that she believes looking your best — whether you're in the middle of a competition or not — is the key to success.
"I believe when you take the time to take care of yourself and put yourself together, that helps boost your confidence," she told IAAF.org.
But the certified professional makeup artist also told the New Yorker that the victory of embracing her personal style had been hard-won:
For a couple of years, being professional, I kind of questioned myself," she said. "Should I wear my false lashes or take the time I want to take so I can feel good when I go out on the field? Because nobody else was really doing that. And I thought, No: I'm not going to change what I believe I should look like to fit anybody else's standards. I believe if you look your best, you're going to feel your best, you're going to do your best.
Carter, who rejects the stereotype that women who compete in shot put events are all "tough-looking," wore her red-dyed hair proudly in a ponytail at the Olympic trials in Oregon.
"You have to understand everyone's body was built to do something," she told the New Yorker. "I was built to do something, and that's how I was built. I think the world is realizing we were promoting one body type and there have always been many."
In her spare time, Carter has also made it her personal mission to make sure that the young girls who shot put — many of whom look to her as a role model — feel similarly comfortable with their own bodies.
"The parents say, 'Can you talk to my daughter and say that it's O.K.? That she can have muscles?' They'll say, 'I show her pictures of you so they can know she's good at what she does but still looks like a girl. She wears dresses.' It releases people to be whoever they want to be in the sport," she told the New Yorker.