Your Favorite Japanese Candy Has a Special Just-For-Men Version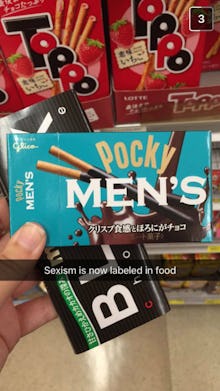 Fragile masculinity — now available in the candy aisle. 
Everyone's favorite chocolate-dipped stick now comes in a manly version — men who want to enjoy Pocky but just thought that red box was a bit too feminine can now enjoy Men's Pocky, which comes in a blue box and is dipped in rich dark chocolate, according to its Amazon description. 
According to this blog, Men's Pocky has been around since at least 2006. While, some Tweets suggest that Men's Pocky was discontinued in 2011, a representative for Pocky said over email that "Pocky Men's is [currently] back in stores for a limited time."
Despite how long the product has been available, the differences between Men's Pocky and regular Pocky has thrown some Twitter users for a loop — the product's sexist cover making rounds on the site once again. 
Gendering everyday items is nothing new. For some reason, companies think everything from Pocky to pink "For Her" pencils should be sorted out by the user's genitalia. 
While Pocky may be a sweet treat, reinforcing fragile masculinity definitely leaves a sour taste in everyone's mouth. 
Aug. 16, 2016, 1:27 p.m.: This story has been updated.