In Praise of 'The Get Down's' Wild, Outrageous and Fabulous '70s Style — And Ms. Green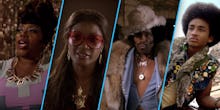 The new Netflix series The Get Down, set in the Bronx in the summer of 1977, has all that you'd expect from a show that takes place in the 1970s. There's the disco balls and flared pants, the fringe and halter tops. But somehow, The Get Down does it better. Yes, there are polyester suits, but there are also lots of leather vests and lust-worthy glasses. 
And that very well may be because the show was created by Baz Luhrmann, the man behind Moulin Rouge and Romeo + Juliet, who has a knack for creating worlds that look luxurious, even if the setting isn't so glamorous. 
The Get Down is set in a tough neighborhood and stars a number of up-and-comers, like Jaden Smith and Shameik Moore, who are all trying to find either a sliver of excitement or a way out. Naturally, music is the best bet. Characters get drawn to either New York's hip-hop scene or the underground disco scene, setting the stage for some outrageous personalities. 
Although the show has received mixed reviews so far, one thing is clear: Luhrmann's characters know how to dress. So, after binge-watching the show this weekend, we decided to highlight the best moments of The Get Down's outrageous and fabulous '70s style. And don't worry, we saved the best for last.
Despite it being summer, everyone is wearing a great hat. 
Watch just five minutes of The Get Down and one thing will be undeniable: It is hot as hell in New York. And it certainly doesn't help that the show is set in the summer of 1977, when the great blackout took place, which meant no air conditioning for, like, 36 hours at least. 
You'd think that at a time like this, the characters would embrace their right to go shirtless (thanks, the patriarchy), but no. Rather than being like, "Let's take a cold shower and run around half-nude," they're all, "Let's put more clothing on our bodies, but really especially our heads." 
To an almost insane degree, everyone on this show wears a hat. However, they really pull them off.
Just look at these brave men below, standing and dancing outside, wearing bucket hats. True warriors. 
Men on this show also really love motorcycle hats.
Oh, and they love trucker hats ...
... and cowboy hats ...
... and even very fuzzy hats. 
And, miraculously, they're wearing turtlenecks too.
If it wasn't bad enough that they were covering their heads with hats, some men in The Get Down are taking things one step further: They're wearing turtlenecks. 
Some wear them with leather jackets and hats in the summer. 
While others pair them with a leisure suit. 
Are these men just buckets of sweat? Are they in on a life hack unknown to anyone else? Tell us your secret, guys.  
Some of the only real highlights of the 1970s involved the fact that men were allowed to have fun with fashion, from sequin shirts to leather pants to fringe, but for some men during this time, "fun" meant wearing vests as shirts.
Much like crop tops now, they were a true gift to people who like to look at men's bodies. 
The real king of the vest on this show, though, is Jaden Smith's character, Dizzee. Just look at this masterpiece. The buttons! The fur! On the back, there's a picture of a funky-looking alien with a 'fro! We want one in every color. 
Every dress Mylene wears when she disobeys her father, really.
May we introduce you to actress Herizen Guardiola, who, firstly, has an amazing Instagram, and secondly, plays Mylene Cruz, the main female character on the show whose conservative family is enraged by the idea that she'd want to become a disco singer. 
Most of the time, she wears kinda dowdy dresses and long skirts, especially compared to her two best friends (see here). But when she pulls it out, and really disobeys her father, she looks cute as hell. 
Like, here she is after sneaking out to go to a club. 
And here she is about to beat the shit out of some record producer. 
And here she is singing in a church against her father's orders. 
The real question now may be: Because of The Get Down, will wrap dresses really come back? We're hoping so. 
Literally everything Fat Annie wears 
Ahem. OK. The time has come to talk about Fat Annie, the show's powerful and terrifying club owner. Let's quickly run through a few things she loves: muumuus, eyeshadow that extends to her eyebrows, false eyelashes, metallic lipstick, huge gold jewelry and turbans. 
You should all be very envious. 
But actually, all hail Ms. Green.  
Now to the woman whose style outshone them all: Ms. Green, the encouraging and adoring teacher of Ezekiel, the series's under-ambitious central character who has a knack for both poetry and rap. 
Ms. Green is a woman who can flawlessly pull off a heavily printed blouse with signature jewelry, huge glasses and just one hairstyle, and still look like the coolest woman who has ever walked the earth. 
A woman who doesn't even need a first name. 
Like...what? What is this? A turtle necklace? We want five. 
How does she do this? 
Bow down...
... to the true style queen of The Get Down.