Muslim Imam and His Assistant Killed in NYC in Possible Hate Crime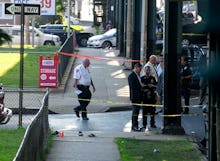 Imam Alala Uddin Akongi of Queens, New York, as well as his assistant Thara Uddin were killed on Saturday in what the New York Daily News reported congregation members are calling a hate crime.
Akongi, who was married with three children, arrived in the U.S. from Bangladesh less than two years ago, according to the Daily News. The two men were shot just one block after leaving Al-Furqan Jame Masjid Mosque in Queens' Ozone Park neighborhood.
Police have not arrested a suspect and initially said that the incident did not appear to be a hate crime.
Local residents interviewed by the paper disagreed.
"I'm not sure what kind of an animal would kill that man," 26-year-old Rahi Majid said. "He would not hurt a fly. You would watch him come down the street and watch the peace he brings."
Another man, Khairul Islam, 33, told the paper he blamed Republican presidential nominee Donald Trump for scapegoating Muslims on the campaign trail.
"That's not what America is about," he said. "We blame Donald Trump for this ... Trump and his drama has created Islamophobia."
According to the New York Post, a crowd forming near the site of the shooting yelled "Donald Trump is responsible!" as well as "We want justice today, not tomorrow!"
Masjid al Amam leader Kobri Chowdhury told the Post he believed the shooting was directed at the imam because he "looked Muslim in every aspect. They shot him because of his looks. It could have been me."
According to Georgetown University researchers, Islamophobic incidents across the country have increased significantly over the course of the 2016 presidential campaign cycle, even considering the heightened level of such incidents that took place in the prior year.
Between March 2015 and June 2016, the researchers wrote, "There have been approximately 180 reported incidents of anti-Muslim violence, including: 12 murders; 34 physical assaults; 49 verbal assaults or threats against persons and institutions; 56 acts of vandalisms or destruction of property; 9 arsons; and 8 shootings or bombings, among other incidents."
According to the report, after Trump called for mosques to be shut down in the wake of terror attacks in Paris, France and a mass shooting in San Bernardino, California in 2015, "anti-Muslim attacks initially tripled with nearly half of those attacks directed against mosques."