Protestors Burn Businesses in Milwaukee After Police Fatally Shoot Armed Motorist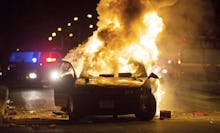 On Saturday afternoon, police shot and killed an armed man fleeing the scene of a traffic stop in Milwaukee. By Saturday night, fires burned across the city.
More than 100 protestors clashed with police on the city's north side, setting fire to a bank, a gas station, a beauty supply store and an auto parts store. There was also damage to a city traffic light and bus shelters, according to the Washington Post. 
Calls to action on social media were responsible for stoking some of the violence, Mayor Tom Barrett said. At a midnight news conference, he and other city officials appealed to protestors to keep the peace.
"We have to have calm," Barrett said. "There are a lot of really good people who live in this neighborhood."
Milwaukee police tweeted that one officer had been rushed to the hospital after sustaining injuries when a brick shattered his squad car window.
The protests erupted in response to the fatal shooting of a 23-year old man, who was stopped by police for "suspicious activity." Washington Post reported that police said that he had been carrying a stolen gun at the time of the stop.
Barrett defended the decision of the officers to pull the man over during his news conference on Saturday night. The officer who shot the man has been placed on administrative duty.
"This stop took place because two officers ... saw suspicious activity," he said. "There were 23 rounds in that gun that that officer was staring at. I want to make sure we don't lose any police officers in this community, either."
Milwaukee Common Council President Ashanti Hamilton acknowledged the despair that can wrack a community in the wake of a police shooting.
"We understand the frustration people feel with the police community nationally. ... We have to go through the process of finding justice, but we have to be able to restore order to these neighborhoods," Hamilton said. "Please participate in restoring order to these neighborhoods."