Here's how the residents of Manbij, Syria, celebrated after the city was freed From ISIS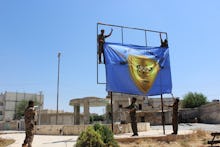 On Friday, United States-backed forces succeeded in driving Islamic State militants from the town of Manbij, Syria, marking a pivotal victory in the war against the radical Islamic faction.
Residents immediately took to the streets to celebrate their newfound freedom, burning long black robes and shearing off the unruly beards they had been forced to wear during the occupation.
ISIS had maintained full control of the tiny town since 2014, according to BuzzFeed. Efforts to remove the scourge of the radical group from the city had been ongoing for 73 days.
One woman told Channel 4 News, "I feel happiness. I feel joy. And it is like a dream, I cannot believe it. Things I saw, no one saw."
Although Manbij is a small town, its reclamation is a key defense strategy, since its location enabled ISIS fighters to smuggle arms and soldiers across the Turkish border, according to the Telegraph.
The residents had good reason to celebrate; Syrian Kurdish officials who spoke to the Associated Press said that ISIS had been using civilians as human shields.
The successful bid for Manbij also marks a huge victory for the Obama administration, according to the Telegraph, since it proves that non-jihadist forces like the Syrian Democratic Forces, or SDF, can effectively wage ground wars.