Danny Fitzpatrick: Staten Island Teen Commits Suicide, Leaves Note Detailing Bullying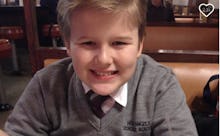 A 13-year-old boy from Staten Island was found hanging in the attic of his family home after writing a letter about being relentlessly bullied at school, the New York Post reported.
In his note, Danny Fitzpatrick detailed the bullying he had experienced at the hands of five other children who attended Holy Angels Catholic Academy with him in Bay Ridge, Brooklyn.
"They did it constantly," Danny wrote, adding that he had asked his teachers for help, but had received none in return.
Danny leaves behind a distraught family, including parents Maureen Mahoney Fitzpatrick and Daniel Fitzpatrick, who said that instead of helping their son at school, officials at Holy Angels Catholic dispatched child welfare investigators to their home.
"They called [the Administration for Children's Services] on us," Maureen Fitzpatrick told the Post.
"Danny told us they [administrators] were asking questions: 'Do Mom and Dad drink? Do they feed you? Do they have clothes in the house? 'Next thing you know, 7:30 at night, I have an ACS officer at my door, and my son told him, 'I just want a friend.'"
Danny's letter explains that he had "lots of friends" at one point in time, but eventually, things changed.
"At first it was good lots of friends, good grades, great life," he wrote. "I moved and went back but it was different. My old friends changed they didn't talk to me they didn't even like me."
Although Danny's letter does mention one teacher who was kind to him, the Fitzpatricks maintain that school officials badly missed any opportunities they had to help their struggling son — like the time he wound up in the principal's office with a fractured pinkie after some classmates tried to fight him on the playground.
Maureen Fitzpatrick said that instead of supporting the boy, they put him in a room with the children who had attacked him and questioned them all on what had happened.
"How do you conduct an interview with the victim and his attacker in the same room?" she asked. "If he said what happened, it would come back to him tenfold."
Maureen Fitzpatrick added that at the end of his life, there was no one that her son fully trusted.
"I'll never have my baby back," she said.
A GoFundMe page has been set up in Daniel's memory, and donations will go to funeral preparations and an "organization that fights bullying and encourages suicide awareness," which the family has yet to determine.
Editor's note: For information about suicide prevention or to speak with someone confidentially, contact the National Suicide Prevention Lifeline at 1 (800) 273-8255 or the Crisis Text Line at 741-741. Both provide free, anonymous support 24 hours a day, seven days a week.