Simone Biles Grabs Her Third Gold Medal of the Rio Olympics With Epic Vault Performance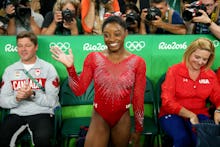 Physics-defying gymnast Simone Biles won her third gold medal of the Rio Olympics on Sunday, when she crushed her competition on the vault. 
The event is composed of two parts — Biles scored 15.900 on her first and 16.033 on her second for a combined score of 15.9666, making her the clear winner, despite the fact that her opponents attempted more complicated routines. That played to her favor. 
"Biles won on Sunday because her mere presence forces her opponents to try risky and dangerous things in the hope of somehow defeating her, making her victories easier when they fail," according to the Guardian. 
Biles is often called the best gymnast in the world, automatically raising the bar for her fellow athletes. Forty-one-year-old Oksana Chusovitina of Uzbekistan attempted the world's most difficult vault move in order to best Biles, but fell, according to the New York Times. Hong Un-jong was Biles' biggest competition, the Guardian reported, and tried to land the "almost mythic" Yurchenko triple twist. She fell on her landing.
The 19-year-old gymnast, meanwhile, opened with an Amanar and moved to the Cheng for her second turn, according to the Times. Her results were nearly perfect. Maria Paseka of Russia won the silver with a combined score of 15.253 and Giulia Steingruber of Switzerland took home bronze with a combined score of 15.216. 
Biles grabbed gold in both the individual all-around on Thursday afternoon (with her signature move, "The Biles") and helped launch the U.S. women's gymnastic team to first place in Tuesday's all-around competition. Next up: the beam and the floor routine. 
Correction: August 15, 2016