Jaw-Dropping Video Captures Rescue of Woman and Dog From Louisiana Floods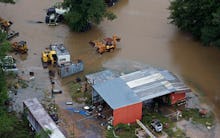 At least four people are dead and more than 7,000 have been rescued following huge floods in southern Louisiana after heavy rain swamped much of the state this weekend.
Louisiana Gov. John Bel Edwards called the flooding a "truly historic event," reported CNN. 
"This is a major disaster. This is an ongoing event and we are still in the response mode," Edwards added.
A fifth death was likely narrowly prevented by a man CBS News identified as David Phung, who dove into floodwaters to rescue a woman in a sinking car — and who went back down to bring her tiny white dog to safety as well. The dramatic rescue, which seems to have occurred with mere seconds to spare until the car's cabin was completely flooded with water, was filmed and uploaded to YouTube.
But many across the state saw homes and businesses devastated by the flooding, which submerged entire neighborhoods. While rain began to clear on Sunday, authorities warned further storms could create more flash floods under current conditions, NBC News reported. State transportation workers had closed some 100 roads by Sunday, and many remain totally inoperable, according to NBC.
Here's a look at the crisis in Louisiana, as told through photos from the scene of some of the hardest-hit areas: