Grindr Is Officially Going High Fashion With Debut "Varsity Collection"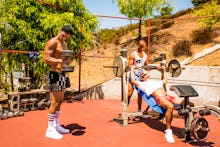 Grindr, long synonymous with taking one's clothes off, wants you to try putting its clothes on. 
On Thursday, Grindr debuted its first-ever full range menswear line, the Varsity Collection, out today, Monday, Aug. 15. Grindr created the collection in collaboration with design studio Print All Over Me. 
"It's geeky and sexy, but it has an under-pulse of Olympic spirit and the concept of bringing everyone together in a category where you see a lot of division," Landis Smithers, vice president of marketing and creative director at Grindr, said in a phone interview. 
Grindr is driving home the message about the sports community by debuting the collection during the 2016 Rio Olympic games. The Olympics have already been a hotbed of homophobic controversy after Nico Hines' Daily Beast article potentially outed closeted Olympians. While out Olympian Amini Fonua clapped back to that one instance of homophobia, Grindr's line hopes to help combat the larger problem of homophobia in sports. 
That Grindr has released a varsity collection is ironic given that the app often operates like a high school cafeteria. Many people of color report having negative experiences on Grindr and the body-shaming phrase "no fats, no fems" runs amok on the app, as well. Grindr's CEO Joel Simkhai told UK newspaper the Indepdenent in 2014, however, that he hopes users state their preferences "in a positive way." 
"I'm not going to solve racism," he told the Independent. 
This isn't the first time Grindr has gone high-fashion. The geolocation app has hooked up with Paper to do high-fashion spreads before. But this new fashion line, according to Smithers, is a whole new experiment. 
"The idea behind the merchandise was to see if we could combine things that people enjoy doing, and see if they could make a direct contribution to the cause at the same time," Smithers said in a phone interview.  
According to Smithers, Grindr is ready to move beyond being just a hook-up app because data shows that Grindr users think of it as more than just that, too. 
"With Gen Z and early millennials, they're already using the app as a form of community builder," he said. "The generation before them uses it to hook up, but this one uses it to chat, to find out where to go." 
Those who purchase items from the collection will also be doing good — proceeds from Varsity's sales will go to Athlete Ally's Principle 6 campaign, a campaign focused on ending homophobia and transphobia in sports communities. 
Twenty-nine pieces comprise the Varsity collection, which draws inspiration from contemporary queer culture and even Ancient Greece. According to Smithers, Grindr and Print All Over Me also used designers that were at the "vanguard of the gender fluid movement" and the collection is good for more than just gay cisgender men who use Grindr. 
"It's almost universal enough that I think people will find something they can enjoy," Smithers said.