At least 2 injured in protests after police shooting death of Sylville Smith in Milwaukee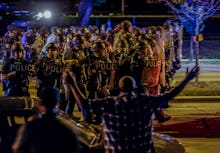 At least two people were injured during the second night of contentious protests Sunday, following the police-involved shooting death of Sylville Smith Saturday, an African-American motorist authorities say was armed. 
According to CNN, one person was shot during the protest, and a police officer was injured after a rock broke through the window of a squad car. 
Smith was reportedly shot while fleeing a traffic stop. According to police, Smith refused to drop a loaded gun he was holding, the Milwaukee Wisconsin Journal reported. 
On Sunday, shootings were reported in three separate locations, CNN reported, and bricks, glass bottles and rocks were thrown at a squad car.
In the hours following Smith's death, protesters set fire to a bank, gas station and several other businesses on the city's north side, Mic previously reported. 
"[Saturday] night was unlike anything I have seen in my adult life in this city. I'm proud of the way our police officers and firefighters responded. What you saw [Saturday] night was tremendous restraint by our officers. Not a single shot was fired by the police," Milwaukee Mayor Tom Barrett said during a Sunday afternoon press conference, according to Fox 6. 
During the same press conference, Milwaukee Police Chief Ed Flynn said the officer who shot Smith is African-American and that there are now concerns for his safety. 
The officer, who has not yet been publicly identified, was wearing a body camera, but the footage will not yet be released due to the ongoing investigation.