Usain Bolt Makes History with 100m Gold Medal at Rio Olympics and People Are Pumped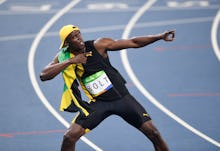 Superhuman runner Usain Bolt finished first in the 100-meter race on Sunday, beating out rival Justin Gatlin with a time of 9.81 seconds. As Bolt sprinted across the finish line — delighted crowds cheering his name — he didn't just earn himself a gold medal; he also made history.
The Jamaican runner — the fastest man in the world — is the first person to win three consecutive Olympic 100 titles, according to the Rio Olympics. Bolt also sprinted to gold medals at the 2012 Games in London and the 2008 Games in Beijing.
Next, he'll vie for the "triple triple," meaning a first place finish in the 200 and 4x100 events, which he also won in 2012 and 2008.
"Somebody said I can become immortal," Bolt said after his 100 victory, according to CNN. "Two more medals to go and I can sign off. Immortal."
Support for Bolt resounded throughout stadium; according to CNN, crowds "chanted his name from the second he appeared on the big screen through to the moment he paraded the track draped in the Jamaican flag." Meanwhile, the U.S.' Gatlin, who's served two doping bans, was reportedly booed. Bolt's win didn't just make history; it was the triumph of a hero over a so-called "pantomime villain." 
On social media, fans cheered Bolt's win — and mimicked his signature pose.
On Twitter, Bolt thanked fans for all the love.