Drake Announces Steamy 'Please Forgive Me' Project Via Instagram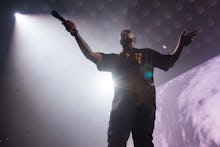 As if the summer wasn't hot enough, Drake is teasing a sultry new visual project via Instagram. "'Please Forgive Me' featuring music from the album Views," the star wrote to caption the first image shared from the project, adding a vague release date: "Coming soon." According to some hints from director Carlos "Spiff TV" Suarez, it may be coming all the way to the big screen.
The pictures Drake has shared so far promise to bring his lavish lyrics to life. The first shows two club-ready models wearing massive couture sunglasses.
Another teaser shows another model scraping her lips with black, pedicured, tattooed fingers. 
Fans have previously spotted Drake filming suspected videos for "One Dance," "Controlla" and "Child's Play" videos in various locales around the world. They've all yet to surface, and it's possible they're all coming together for this larger project "featuring music from the album Views." 
As recently as Aug. 8, Director Spiff TV shared a picture of a closed clapboard from the "Child's Play" video shoot, dated July 17. "Coming Soon to a Theater Near You," he wrote. "Motion picture shit."
Depending on how literally you want to take Spiff's words, he could be referring to an actual theater release or simply something on a Hollywood scale. Either way, it's going to be epic.
"Drake had the vision and it's gonna be special," Spiff told Billboard in July. "Like the way Michael Jackson used to shoot his videos. ... You'll be surprised to see the cameo and the lead roles."
This post will be updated as more information becomes available.