Donald Trump's Campaign Chair May Have Received Millions in Secret Payments From Ukraine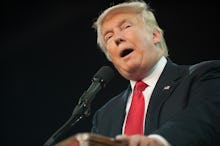 A bombshell New York Times report published late Sunday revealed that Donald Trump's campaign chairman, Paul Manafort, may have received $12.7 million in "undisclosed cash payments" from the party of a pro-Russian Ukrainian president — exposing yet another tie between the Trump campaign and Russia.
The payments were uncovered by a new National Anti-Corruption Bureau in Ukraine, which found that former Ukrainian President Viktor F. Yanukovych's party recorded the payments to Manafort in "handwritten ledgers" that the New York Times reported were "part of an illegal off-the-books" scheme.
The payments were reportedly recorded starting in 2007 and ending in 2012, two years before Russia staged a military intervention to annex Crimea, an action viewed by many in the international community as a violation of international law. Since the annexation, Yanukovych — who had the support of Russian President Vladimir Putin — fled Ukraine and is now exiled in Russia.
The news comes as Russia has reportedly attempted to meddle in the 2016 presidential campaign.
The country is allegedly behind the email hack of numerous Democratic campaign entities, including the Democratic National Committee.
The hacked emails, some of which were released by WikiLeaks, were an attempt to harm Hillary Clinton's campaign and boost Trump — who has spoken favorably of Putin and promises to bolster U.S.-Russian ties.
Multiple reports say the Trump campaign was behind a change in the Republican Party platform crafted at the Republican National Convention, which nixed language in the document that called for arming Ukraine to fight the pro-Russian rebels in the country.
Trump has also questioned the necessity of the North Atlantic Treaty Organization, a military alliance that would band together to fight off possible Russian aggression toward member countries.
Manafort, for his part, has denied the allegations that he received "off-the-books cash payment[s]" from a pro-Russia faction of the Ukrainian government
Hillary Clinton's campaign called Manafort's reported ties to pro-Russian entities "troubling":
"Given the pro-Putin policy stances adopted by Donald Trump and the recent Russian government hacking and disclosure of Democratic Party records, Donald Trump has a responsibility to disclose campaign chair Paul Manafort's and all other campaign employees' and advisers' ties to Russian or pro-Kremlin entities, including whether any of Trump's employees or advisers are currently representing and or being paid by them," Clinton campaign manager Robby Mook said in a statement.