Andy Murray Was Lauded for Having Achieved a "First" the Williams Sisters Already Claimed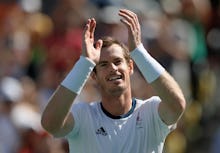 Following tennis player Andy Murray's second consecutive Olympic gold medal win Sunday night, casual sexism reared its ugly head once again in a post-game interview.
According to the Evening Standard, when BBC reporter John Inverdale praised Murray for being the first "person" to win two Olympic medals in tennis, Murray interjected with a gentle reminder that women are people too. 
"You're the first person ever to win two Olympic tennis gold medals," Inverdale said. "That's an extraordinary feat, isn't it?"
"I think Venus and Serena [Williams] have won about four each," he said.
Doing some on-the-spot fact-checking, Murray clarified he had only made history for being the first to win two consecutive gold medals for the singles title, not in Olympic tennis overall. Indeed, Venus and Serena Williams each have one gold in tennis singles and three in doubles, the latter hardware earned as a team.
Inverdale's gaffe was just one of several blunders from commentators and the media undercutting or erasing women's athletic achievements altogether.
Murray's fans on Twitter applauded him for calling out what they saw as blatant misogyny:
The tennis star has spoken out about gender bias in tennis before, calling himself a feminist in a 2015 blog post recounting the unfair criticism his coach Amélie Mauresmo faces just by virtue of being a woman.
"She's the one who's taken the heat," wrote Murray in a blog post for French sports daily L'Equipe, according to the Guardian. "Her competence was always under fire."
As for whether he's become a feminist over the course of his career, Murray had an ace of an answer: "Well, if being a feminist is about fighting so that a woman is treated like a man then yes, I suppose I have."
Game. Set. Match.