Boko Haram Just Released a Video of Chibok Girls, Offering Them in Exchange for Captives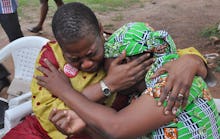 Terrorist group Boko Haram released a video Sunday, allegedly showing both alive and dead girls who were kidnapped in Chibok, Nigeria, in April 2014. More than 270 girls were abducted at the time.
Some of the girls were killed in Nigerian airstrikes, the group claims in the video, offering to release the captive girls in exchange for Boko Haram fighters the Nigerian government has detained. 
A militant in fatigues, concealing his face and holding an assault rifle, delivers the message in Hausa, in front of the group of girls. 
The 2014 abduction sparked international outrage and produced #BringBackOurGirls, a worldwide campaign. First lady Michelle Obama joined the movement, appealing for their return.
While 57 girls were able to escape almost immediately after the mass kidnapping, more than 200 remained Boko Haram's captives.
A number of parents were overcome by seeing their daughters in the video. Rumors of forcible marriage abound, but there has rarely been proof of life.
"The fact is we are overwhelmed with a feeling of depression. It's like being beaten and being stopped from crying," Samuel Yaga, the father of captive Serah Samuel, told BBC. "You helplessly watch your daughter but there is nothing you can do. It's a real heartache."
The government of Nigeria is allegedly in talks with the group regarding their demands, Al Jazeera reports.
"Those who are still alive — we want them back," Yaga added. "We want them back irrespective of their condition."
Some of the footage can be seen here: