Internet Claps Back After Viewers Slut Shame Olympic Presenter Helen Skelton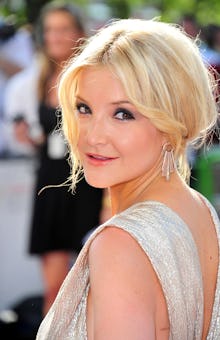 Olympic presenter Helen Skelton has been criticized for her short dresses and skirts while covering the 2016 Olympics in Rio. But now slut-shaming viewers have taken their sexist obsession to an all-time low. 
Footage of Skelton sunbathing topless on the beach when she was 17-years-old was reportedly leaked on a porn site over the weekend, then feverishly covered by tabloids looking to exploit the TV presenter. The footage appears to have been taken without her knowledge or consent, so a spokesperson for Skelton told Standard Online she is filing a complaint with the Independent Press Standards Organisation.  
Twitter users quickly jumped to Skelton's defense, reminding everyone that her body is none of our business and spreading nonconsensual images of underage nudity is creepy AF. 
The double standard women face in TV reporting is laughably obvious. Fellow TV presenter Gary Lineker appeared in nothing but shorts the same weekend the footage was leaked, yet did not inspired the type of pearl-clutching outrage currently plaguing Skelton. Once again, sarcastic Twitter users pointed out the discrepancy. 
Overall, the Olympics have been a parade of sexist coverage, with news outlets describing medalist trapshooter Corey Cogdell as the "wife of" a Chicago Bears lineman and swimmer Simone Manuel as a nameless African-American sharing Michael Phelps' "historic night." 
Like the discrepancy between TV presenters, male athletes are also held to completely different uniform standards than their female peers. From volleyball bikinis and gymnasts' hairdos, audiences are constantly commenting on women's bodies instead of their performances.
ThinkProgress even reported some female boxers still face pressure from media and athletic federations to compete in a skirt instead of shorts. There's still a long way to go until women are treated as equals at the Olympic games. 
But it looks like this year Skelton may emerge from the sexist media frenzy with a victory of her own. According to the Daily Mail, she is currently lined up for a lucrative new project with the BBC after the Olympic games end.