BBC Host Gary Lineker Presenting in Underwear Highlights Double Standards on TV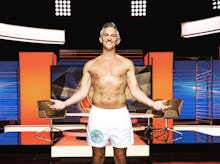 A quick lesson in double standards: A man appears on TV in just his underwear and the internet erupts in cries of silver fox; a woman appears on TV in a short dress and viewers take to Twitter to criticize her for looking like a sex worker.  
This is precisely what happened when former soccer player and current sportscaster for BBC's Match of the Day, Gary Lineker, followed through on a longstanding promise to present in just his skivvies if Leicester City won the Premier League. 
As Mashable reported, they did win, which meant Lineker had a job to do. In his underwear. On Saturday night, he did it — and Twitter responded with resounding applause. MOTD's ratings spiked. 
One week previously, BBC's Helen Skelton wore a short dress while presenting live from the Rio Olympics. But trolls positively roasted her for showing what they judged to be too much skin. 
Skelton's dress made her, in the eyes of some viewers, a potential corrupter of kids; Lineker's underwear-only appearance made him a children's hero.  
Lineker did not get called trash; he got a pat on the back for making good on an embarrassing agreement and looking good while he did it: The only complaint he received was that he wore "shorts" rather than "pants," as promised, which is to say, that his boxers were too big and viewers would've liked to see more skin, please. 
Many devoted sports fans who'd seen both broadcasts were quick to point out the gross gap in reactions to Skelton's and Lineker's outfits. The more socially aware people of the internet were irked at the obvious (and sexist) double standard.
Literally what, indeed.