With 1 Photoshoot, This Teen Proves That Cancer Can't Stop Her From Being a Princess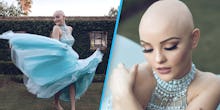 In a series of photographs that have now officially gone viral, 17-year-old Andrea Sierra Salazar poses in an ice-blue, bejeweled gown with a high collar, twirling around a property that could easily be a castle.
She looks like a 21st-century Cinderella — but there's just one thing: Unlike a prototypical Disney princess, Salazar doesn't have any hair. 
Back in February, Salazar found a lump on her collar bone, and was soon diagnosed with type 2 lymphoma stage 2, according to BuzzFeed. 
These days, Salazar has to take a lot of time off school. But between doctors appointments and hospital stays, her mother is using the time to help Salazar achieve her dreams. Since she was 13 years old, Salazar has wanted to model, so in an effort to raise her confidence, she and her mother have started reaching out to modeling agencies and photographers who would be interested in taking Salazar's picture. 
Sure, Salazar's hair has fallen out because of the chemotherapy, but that's just opened up more opportunities for her to transform herself for photoshoots. 
Salazar told BuzzFeed, at first "I didn't feel confident enough to do a version without a wig, but then I realized that I had no reason to be ashamed of the way I looked — I should be proud. It's not only about my outside beauty, it's about the inside. That's what really inspired the photoshoot without the wig." 
Since her diagnosis, Salazar's posed for a number of photographers, but nothing so far has rivaled the images taken by photographer Gerardo Garmendia, who helped make Salazar look — and feel — like a princess. 
According to Salazar, she initially wanted to take the photographs to help inspire the other young girls at the hospital who are battling with their hair loss as well. 
"I see all these little girls, and you can see it in their faces that they lose all confidence in themselves," Salazar told BuzzFeed. "I want them to know that your hair or your physical attributes doesn't define who you are, what really matters is your inner beauty, the way you treat others, and if you're a kind person that shows through."
But she never thought this message would reach so far beyond the hospital walls, with nearly 100,000 retweets in less than a week. 
"Cancer shouldn't stop you from doing what you love. I want [people] to know that they're beautiful on the inside, and I want to be an inspiration to them," Salazar told BuzzFeed. 
Despite the obstacles in her way, Salazar isn't letting anything stop her from achieving her dreams — and making sure that girls like her know they can be princesses, too.