Justin Bieber and Selena Gomez Have the Shadiest Spat Over Instagram, Internet Implodes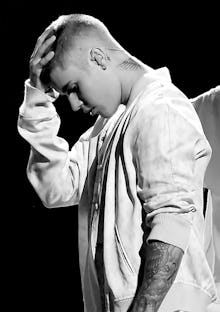 Ah, Instagram comments — the absolute perfect place to drag your ex while the world watches. Selena Gomez found an epic opening in that exact spot over the weekend to enliven her campaign to destroy her once-boyfriend Justin Bieber. 
The "Sorry"-not-sorry singer uploaded a series of fun, flirty pictures of his new alleged squeeze Sofia Richie. It drew hate and snake emojis like a magnet to not only Bieber's Instagram, but Richie's as well, prompting Bieber to threaten to make his Instagram private. He was walking right into the lion's den — Gomez being its resident lioness.
"If you can't handle the hate then stop posting pictures of your girlfriend lol — it should be special between you two only," Gomez chimed in. "Don't be mad at fans. They love you. They were there for you before anyone."
She then sprang to her own Instagram, putting up a post absolutely dripping with fan love.
It wasn't long before Bieber jumped in, starting the shadiest back and forth the celebrity world has seen since Taylor Swift and Nicki Minaj went to war.
"It's funny to see people that used me for attention and still try to point the finger this way," Bieber shot back at Gomez. "Sad. All love." The icon was trying to placate his riled up Beliebers, but the floodgates had opened already.
"Funny how the ones that cheated multiple times are pointing the finger at the ones that were forgiving and supportive, no wonder fans are mad," Gomez clapped back. "Sad. All love."
Twitter took it from there. Translating the shade into every conceivable meme imaginable, with many of the most ruthless tagged with #SelenaEndingJustinParty.
All this Belieber hate builds off a long string of perceived slights Bieber has handed to his fanbase. In March Bieber cancelled his fan meet and greets saying it left him feeling "drained and unhappy." In May, Bieber went on an Instagram rant, refusing to take pictures with fans saying he felt like a "zoo animal." He rejected a fan's request for a hug in July. 
With fans so riled, there was no way the Gomez drama was going to go over without making waves. Yet the real lesson may lie in Gomez's first suggestion: Keep your love off the 'gram if you don't want it dragged.