102-Year-Old Woman Attributes Long Life to Drinking Beer Every Day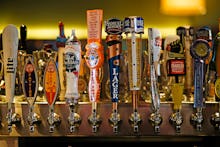 Mildred Bower lived through the Great Depression, and she  saw the market crash in 2008. She was an American citizen when Woodrow Wilson lead the nation, and when Barack Obama was elected as the country's first black president, too. 
Yep, at 102 years old, Millie — as her friends call her — has pretty much lived through it all, and she chalks her own longevity up to enjoying a daily serving of beer.
Bowers throws back her hoppy elixir every day at 4 p.m. at the assisted living facility where she resides, Live 5 News reported. Bowers spoke with Live 5 reporters while out at a restaurant for an early birthday celebration, and she told the news outlet that some time ago she'd asked some nurses if she could have a beer, to which they replied, "Why not?" Once they'd confirmed with her doctor that it'd be OK, Bowers began enjoying her daily brew.
When asked whether she'd recommend all seniors to drink beer on the reg, Bowers, who'll officially turn 103 on August 31, said if they like it, they should. "Look, there are people who don't like coffee and people who don't like tea," the senior continued. "But I want everyone to drink what they like."
Beyond her scheduled consumption of beer, the soon-to-be-103-year-old also credits her longevity to her genetic makeup. "It's all in the genes," she told Live 5 News. "My mind is good, I have no problem with that and that's the big thing that a lot of people my age don't have," Bowers said.
Bowers is, of course, not the first centenarian to give alcohol two thumbs up. Across the pond, 100-year-old Mabel Jackson said drinking six gin and tonics a day is the secret to her long life.
While there's no evidence that an alcohol-fueled diet promotes longevity (in fact, the Centers for Disease Control and Prevention might argue a case for the exact opposite), we will happily cheers to these two.