High school athlete charged with sexually abusing a mentally handicapped girl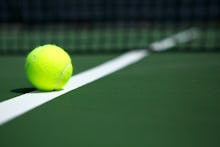 Iowa high school student Nicholas Fifield, 18, has been charged of third-degree sex abuse of a woman who suffers "from a mental defect or incapacity, which precludes giving consent," according to the Des Moines Register. 
He was supposed to pick her up from the group home where she lives and take her to the movies. But instead, he allegedly took the woman to his house and forced her to "fondle" him, despite her adamant refusals. 
If convicted of sex abuse, Fifield could face years of jail time. But many are outraged by the local Iowa newspaper the Des Moines Register for its coverage of the trial. One headline referred to as Fifield as a "tennis ace" instead of an "alleged sex offender" and claimed he was involved in a "sex case" instead of  an "abuse" case. 
Most of the paper's related articles have been published with action shots of Fifield during a tennis game, not a mug shot or any image related to a criminal case. 
Local Polk County Attorney John Sarcone also told the paper the alleged crime was merely the byproduct of "two people with a lot of issues between them" and that "prison would not do this kid any good."
Since Fifield was accused of sexual assault last December, his sole punishment has been a suspension from a tennis match earlier this year. For what it's worth, Fifield's father Jay is also a prominent local tennis coach.
Fifield's lack of punishment horrified local parent Steve O'Meara, who told the Register he thought the teen should have been completely banned from the games. 
"Anybody who has a daughter should be appalled by this," O'Meara said. "Our public universities suspend and remove such athletes from teams and competition. While even this single situation is appalling, it begs the question: How many other times have situations like this occurred within the Valley athletics department?"
Although facing years of jail time, Fifield ultimately took a plea deal for a lesser misdemeanor charge, "assault with intent to commit serious injury," which could give him a few months behind bars but will most likely be settled with just a fine. 
Mic reached out to the local police and Fifield's attorney, and we will update when we hear back.
Unfortunately, this isn't the first time an alleged sex offender was treated like star athlete. 
Earlier this year, former Stanford swimmer Brock Turner was convicted of sexually assaulting an unconscious woman. Yet he was only sentenced to six months of jail time, and is expected to serve just half of it. This ruling flew in the face of the prosecutors' request for a six-year sentence, CNN reported. 
The anonymous victim in Turner's infamous case also pointed out how the attacker's athletic abilities were frequently mentioned in headlines, as if they were a reflection of his character.
"The All­-American swimmer at a top university, innocent until proven guilty, with so much at stake..." she wrote. "How fast Brock swims does not lessen the severity of what happened to me, and should not lessen the severity of his punishment."
Fifield will be sentenced in October. Only time will tell if his final verdict will mirror Turner's lenient sentence as well.  
Correction: Sept. 20, 2016