Monica Puig Wins First Olympic Gold Medal for Puerto Rico in Singles Tennis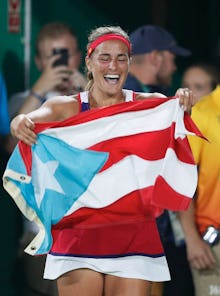 Monica Puig made her country proud on Saturday.
In the 2016 Rio Olympics women's singles tennis finals, the 22-year-old Puerto Rican — ranked 34th in the world — beat Germany's Angelique Kerber for the gold medal in one of the biggest upsets in the games. Kerber was ranked No. 2, Reuters reported.
Puig's win was the first time Puerto Rico has ever won gold in the Olympic Games. Puig is also the first woman representing Puerto Rico to ever win an Olympic medal.
When Puig went up against Kerber, according to Reuters, the crowd erupted in cheers of "Si, se puede," translating to "Yes, you can" in English.
Puig won two sets against Kerber: The score for the first was 6-4, the second was 4-6 and the last was a blistering 6-1 win, Reuters reported. Puig fell to the ground and kissed the tennis court as the whole stadium cheered her name.
The Puerto Rican tennis player also pulled a big upset in the semi-finals when she beat two-time Wimbledon champion Petra Kvitova.
While other Olympic athletes of Puerto Rican descent have won medals, like swimmer Maritza Correia McClendon, who was born there, and tennis player Gigi Fernandez, they won while representing the United States.