This "Street Librarian" Is Helping Homeless People Through Literature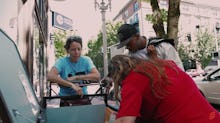 Laura Moulton isn't your typical librarian — for starters, she does most of her work on a bike, traveling around Portland, Oregon, with her mobile library. Moulton founded Street Books in 2011 as a "summer art project," according to the project's official website, and she's still doing it today. 
Her mobile library project lends books to homeless and low-income residents of Portland, who might not feel comfortable using traditional libraries. One of Street Books' patrons, Juliet Taliaferro, told the New York Times in 2014 that she "hardly ever uses a regular library because of the rules and fines and library cards."
Street Books has no return policy, and doesn't require proof of residence or official ID. "We serve people who are living outside, or kind of at the margins," Moulton said in a short documentary about Street Books made by NationSwell in July.
"Patrons are invited to sign out and take the book. We also give them an official Street Books library card. That's basically it, there's no proof of ID necessary, no proof of address, because those are things they lack."
Moulton and her Street Books crew, six librarians in total, make sure to keep to a regular schedule so their patrons know when to expect them. And they keep a wide variety of books in stock, even though, with a library attached to a bike, space must be limited.
Street Books' mission, according to its website, is to both "empower people on the streets through access to literature" and to "create a community of support for people living outside, through a shared love of books."
"We have narratives, I think, that we make about people who are living outside that helps us walk past them," Moulton explained in the NationSwell documentary. "And I really think that if we took pause and considered each person, that we would not be able to walk by so easily."