Gabby Douglas Cried After Her Final Routine in Rio — Fans Respond With #Love4GabbyUSA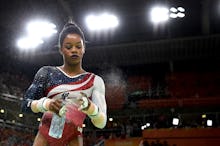 Gabby Douglas wrapped up a historic Olympic gymnastics career this weekend in Rio de Janeiro, but you'd hardly know it judging by the hordes of armchair critics and social media trolls who simply will not let her live.
In what was likely the last interview she will ever give at an Olympic Games, the 20-year-old three-time gold medalist answered questions Sunday about the flak she's received for not placing her hand over her heart during "The Star-Spangled Banner" last week, as well as allegedly not showing enough enthusiasm for the individual successes of her teammates, Simone Biles and Aly Raisman.
"I tried to stay off the internet because there's just so much negativity," Douglas said, according to ESPN. "Either it was about my hair or my hand not over my heart [on the medal podium] or I look depressed. ... It was hurtful. It was hurtful. It was. It's been kind of a lot to deal with."
She then said she has "apologized if [she] offended anyone" over the national anthem incident — which is true — before adding, "I've always said it was an honor to represent the U.S. You always do this for your country, and then, like people say, for yourself and other people."
That wasn't even the worst of it. From ESPN:
After Douglas thanked everyone in the press area and gave way to Madison Kocian, who won the silver medal in the uneven bars competition, she walked down the hallway at Olympic Arena. Then Douglas stood in a corner, facing a wall, and had a good, long cry.
Good job, everyone. Gabrielle Douglas, the first black girl or woman to win an Olympic gold medal at an individual all-around competition — a living sports legend — was reduced to tears on her last day of competition in Rio because some of you couldn't keep your unsolicited opinions to yourselves.
Her mother, Natalie Hawkins, was having none of it in an interview with Reuters that same day.
"She's had to deal with people criticizing her hair, or people accusing her of bleaching her skin," she said. "They said she had breast enhancements, they said she wasn't smiling enough, she's unpatriotic. Then it went to not supporting your teammates. Now you're 'Crabby Gabby.'"
Douglas, meanwhile, has won praise from her teammates — including Biles, "one of her best friends on the team," according to ESPN — for how supportive she has been. Biles reportedly said Douglas was one of the first to congratulate her when she became the second consecutive black gymnast to win individual all-around gold at the Games.
None of which appears to have shielded this preternaturally accomplished young woman from the same criticisms that have been levied at female athletes throughout history — criticisms that focus on their appearance and how they present themselves publicly rather than their athletic accomplishments.
"You name it and she got trampled [for it]," Hawkins, Douglas' mother, added. "What did she ever do to anyone?"
Fortunately, fans of Douglas' responded by showing their support on social media. Many of their messages are collected under the hashtag #LOVE4GABBYUSA: