Who Will Play Cable in 'Deadpool 2'? Hint: Keira Knightley Isn't the Frontrunner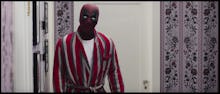 Marvel's Deadpool didn't go the extravagant route with its after-credits scene, instead opting for a cheeky Ferris Bueller homage that offered one important tidbit about its sequel: They'll be introducing Cable. 
The comic book character — basically a mutant from the future with a bionic arm — has a long and entertaining narrative history with the crass antihero, so it's a move that makes a lot of sense. The real question is: Who's going to get the chance to play him? Here's a shortlist of the rumored Cable frontrunners so far. 
Kyle Chandler: According to the Meet the Movie Press vodcast, per Mashable's Jeff Sneider, Kyle Chandler's name has been floating around for a while: He is allegedly the clear frontrunner for the role. Chandler is best known for his Emmy Award-winning role in Friday Night Lights and Emmy-nominated work on Netflix's Bloodline.
Still, as Sneider notes, the news should be taken with a grain of salt until anything's official.
"This was just the name that has been out there for months," Sneider says. "So take this with a gigantic grain of salt — the biggest grain of salt that your tiny little brain can imagine. The name that is floating around for Cable right now is Kyle Chandler." 
Stephen Lang: A prerequisite for a casting should be enthusiasm for the role, and Stephen Lang made it clear once Deadpool came out: He wants to be Cable. The actor — who played the main, militaristic villain in Avatar, a Cable-esque figure sans the a bionic arm — shared his enthusiasm for the potential role on social media in the best way possible: a casual flex. 
We're sold, and it certainly does help that he looks the part — more so than Chandler. 
Keira Knightley: As Deadpool notes in the movie's after-credits scene, "She's got range." Fans apparently think so too: Impressive fan art makes the actress look like a spectacular, albeit unexpected, Cable contender. Deadpool 2 would be remiss not to include Keira Knightley in a cameo as Cable — even if it's another after-credits scene.