New 400-Meter World Record Holder Wayde van Niekerk Is Coached by a Great-Grandmother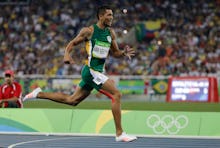 On Sunday evening, Olympic spectators watched in awe as South Africa's Wayde van Niekerk smashed Michael Johnson's 17-year-old world record to win the 400-meter dash in Rio de Janeiro.
The cheers were resounding — it's not every day someone runs the 400 in 43.03 seconds, after all — but the most adorable reaction by far came from 74-year-old Anna Botha:
Botha is van Niekerk's trainer. According to Fox Sports, the great-grandmother has been coaching the 24-year-old since 2012, when she helped him recover from a series of injuries then shaved a full four seconds off his previous personal best time in the 400.
"She's really kept me very disciplined and very focused on the goal and where I need to be," van Niekerk said, according to Fox Sports. "I'm grateful I could trust in her work and I think it speaks for itself. What she's achieved as a coach, I'm just thankful to be part of the history she's made."
Botha has been the head track and field coach at the University of the Free State in Bloemfontein, South Africa, since 1990, according to CNN. Van Niekerk started training with her when he enrolled in school there four years ago. 
Since the two teamed up, van Niekerk's achievements have racked up dramatically. In 2016 alone, he had the versatile distinction of running the 100-meter dash in under 10 seconds; the 200-meter dash in under 20 seconds; and the 400-meter dash in under 44 seconds, according to Fox Sports.
For van Niekerk, much of the credit is due to his septuagenarian coach.
"She's an amazing woman," he said, according to CNN. "She's played a huge role in what I am today."