'Charlie Hebdo' Reports Death Threats After New Cartoon Depicts Naked Muslims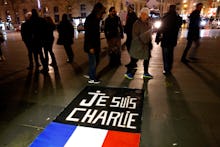 Charlie Hebdo, the controversial satirical magazine targeted in a January 7, 2015 terror attack that left 12 dead, has again received death threats, this time after publishing a cartoon of naked Muslims. 
Reportedly published as commentary on the French burkini ban, the image depicts a man with a beard and a woman with a hijab running naked on the beach. The caption, translated to English, reads, "The reform of Islam: Muslims loosen up," according to the Independent.
Shortly after the image was published on Wednesday, reports of death threats and an "imminent" attack were received by Charlie Hebdo staffers both as handwritten messages and via Facebook.
"It does not stop," Eric Portheault, co-shareholder of Charlie Hebdo, told French newspaper Le Parisien.
The magazine has received about 60 messages and insults on its public Facebook page during July and August, Le Parisien reported.
Charlie Hebdo was the target of terror attacks twice, most infamously in 2015. Reportedly as revenge for the magazine publishing images depicting the Prophet Muhammad, a group of assailants killed eight Charlie Hebdo staffers, two police officers, a caretaker and a visitor. Days later, the group killed four more people at the Hyper Cacher kosher supermarket.
Since the attack, the publication's office has been under police protection. According to Le Parisien, the Paris prosecutor's office is looking into the death threats against Charlie Hebdo after Portheault filed a complaint to local authorities.