Usain Bolt and Wayde van Niekerk Might Race — And We Might Be Extremely Into That Idea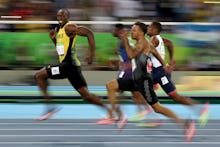 Usain Bolt is putting out feelers: The world's fastest man would like to race 400-meter world record-holder Wayde van Niekerk, he told the press Sunday night.
"That would be a good one, that would be a good race," Bolt said, according to the Sydney Morning Herald.
Bolt suggested a 300-meter dash, the middle ground between his longest preferred distance — 200 meters — and van Niekerk's event, the 400-meter. Van Niekerk shattered American Michael Johnson's 1999 world record on Sunday to win gold in 43.03 seconds. Bolt also ran Sunday, earning his third straight 100-meter Olympic gold medal, an event for which he set the world record (9.58 seconds) back in 2009.
Cameras caught Bolt and his Jamaican teammates marveling at van Niekerk's performance behind the scenes, minutes before Bolt's own final.
The Jamaican sprinter explained his coach had tried to put him in a 300-meter event at a recent grand prix, but he wasn't "in the best of shape." (The 300-meter is not an Olympic-sanctioned event.) But Bolt has his sights fixed on the future, which may or may not include another Olympic bid. 
"Hopefully next season, if [van Niekerk] is in good shape and my coach puts the meet on again, I get a chance to run," Bolt continued, according to the Herald. "I would really like to compete against him over 300 meters; that would be good."
Van Niekerk, for his part, has a shorter distance in mind: the 200-meter. 
"My favorite event is the 200-meters, to be honest with you," the 24-year-old told Sports Illustrated. "I'd love to race one day, when I'm big. These are guys that inspire me, that keep me competing, the same like with the guys in the 400-meters. I'd even love to run 100-meters with the big dogs one of these days."
Bolt, who also owns the 200-meter world record, said thanks, but no thanks.
"He can't beat me over 200 meters. I'm not worried about that," Bolt said, according to Sports Illustrated. "But I'm really proud of him. When he came to Jamaica I said to him, you're the only person that can break this 400-meter world record."
Bolt will run in the 200-meter on Tuesday, and will participate in the men's 4x100 meter on Thursday. A livestream of the event will be available on NBC's Olympics website.