How long do red wine, white wine and rosé last? Your guide to making every drop count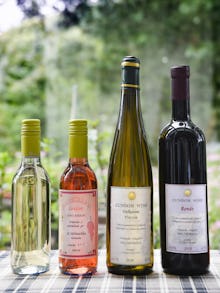 Congrats on not finishing that bottle of wine! Well, not yet at least. Now, what to do with it? Your half-sipped bottle of rosé doesn't need to go to waste. Here's how long your red wine, white wine and rosé bottles will last after you've popped the cork, so you can enjoy every bottle down to the very last drop.
Red Wine
According to Vic Rallo — a restauranteur, an author and the host of EAT!DRINK!ITALY! on PBS — you can keep a corked bottle of red for up to 15 years, depending on the grapes. Once you've decide to open your hoarded reds, the restauranteur recommends uncorking the bottle at least one hour prior to drinking it. "The exposure to air gives the wine a little time to breathe and open up," Rallo said in an email. "Once you open up the bottle, the wine will last for four to five days in the fridge." 
White Wine 
Drink your corked white wine bottles within five years of the bottle date (with some exceptions). "White wines should really be drunk close to immediately after opening, as they only last a few days," said Rallo. "Most ideal when you're in a rush to have a glass!" So, in other words, always. 
Rosé 
Aging bottled rosé depends on the grapes. Some rosé wines should be consumed immediately, when they're fresh, while others can acquire more depth from aging. Once open, a bottle of rosé lasts about three to five days, Rallo said.
You can also freeze leftover rosé to make ice cubes for your next icy cold glass of wine or try making rosé vinegar. Wine Director Mackenzie Campbell of Boston's Caswell Restaurant Group recommends pouring leftover rosé into a very clean Mason jar, securing several layers of cheesecloth to the top of the jar (to prevent bugs or dust from getting in) and letting it sit for about six months. Then just strain it out, jar it and use it like any other vinegar! Rosé salad dressing, anyone? 
And to store your open wine:
"If you find yourself with an unfinished bottle, seal it as tightly as possible and store in a cold place until you're ready for round two," Kris Kato, a winemaker at Carmel Road, said in an email. If you're a single-serving wine drinker, consider purchasing a bottle with a screw cap, which will help preserve your wine. If you're putting the cork back in, Rallo says to be sure to re-cork the bottle with the stained side first: Putting the opposite, "cleaner" looking side of the cork in contact with the wine may introduce contaminants that weren't there before.
Those in the serious business of saving leftover wine can also purchase vacuum pumps or nitrogen gas cartridges to help keep wine fresher, longer. Kato, who has worked with Drew Barrymore on her line of wines, also recommends not saving your wine for a special occasion — it's always wine time! "Even a Netflix and grilled cheese kind of night is the perfect opportunity to enjoy a glass of your favorite wine," he said. Agreed.  
When in doubt, follow the pros:
"Wine usually doesn't make it beyond a few hours after I open it," Rallo said. "I'm known for always finishing the bottle!"