The 2016 Rio Olympics Have Been a Powerful Tribute to #BlackExcellence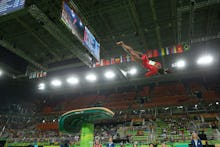 #BlackExcellence is an elemental force, like fire or the sound of waves crashing on a Brazilian beach, but rarely is it found in such publicized concentration as the several days in Rio de Janeiro.
As many black Americans remain embroiled in protests against rampant police violence at home, their counterparts on Team USA have been fighting to provide a glimmer of hope abroad.
So far, they have succeeded magnificently. In competitions ranging from swimming and fencing to gymnastics and back, black athletes have put on a show at the Olympics, shattering preconceived notions of what black athletes can or cannot do and collecting buckets of hardware in the process.
Here are seven of the brightest examples of American #BlackExcellence at this year's Rio Games, which end Sunday, August 21:
1. Simone Manuel
Manuel, 20, made history by becoming the first black woman swimmer to win an individual gold medal at an Olympic Games ever. She tied with Canada's Penny Oleksiak for first in the 100-meter freestyle race on Thursday.
Simone Manuel is #BlackExcellence.
2. Simone Biles
Simone Biles more than delivered on the hype that followed her into the Rio Games, helping Team USA win gold in the women's gymnastics team all-around competition, followed by three more gold medals — on the vault, floor exercise and in the individual all-around — to cement her remarkable legacy.
Simone Biles is #BlackExcellence.
3. Gabby Douglas
Gabby Douglas requires no introduction, as the first black female gymnast ever to win gold in an Olympic individual all-around competition in 2012. But she added to her medal collection this year in Rio by helping the USA squad to a second consecutive team all-around championship.
Gabby Douglas is #BlackExcellence.
4. Ibtihaj Muhammad
Ibtihaj Muhammad became a legend twice over at the Rio Games, becoming the first woman to compete for a U.S. Olympic team while wearing a hijab (Muhammad is Muslim) and helping the women's fencing squad to bronze in the team saber competition.
Ibtihaj Muhammad is #BlackExcellence.
5. Jenny Arthur
Gainesville, Georgia's own Jenny Arthur finished sixth in the women's 75kg weightlifting competition at the Olympics, but set an American record in the process by lifting 252kg, or about 535 pounds.
Jenny Arthur is #BlackExcellence.
6. Daryl D. Homer
The Rio Games is nothing if not a tribute to the rise of black American fencers. Daryl Homer made history Wednesday by becoming the first American to win silver in the saber competition since 1904, and the first American medalist in the saber competition since Peter Westbrook — who is also black — won bronze in 1984.
Daryl Homer is #BlackExcellence.
7. Michelle Carter 
Michelle Carter also made history, but in her case, it was by becoming the first American woman — let alone black American woman — to ever win gold in the women's shot put competition. She now constitutes one-half of Team USA's first ever father-daughter Olympic medalist pair: Her father, Michael Carter, won silver in men's shot put in 1984.
Michelle Carter is #BlackExcellence.
8. Ashleigh Johnson
Johnson was already the first black athlete ever to make the U.S. Olympic women's water polo team. Then the team won gold in Rio — the second consecutive Olympic victory for the team, led this time by Johnson's spectacular nine saves on 13 shots in a 12-5 win over Italy.
Ashleigh Johnson is #BlackExcellence.
This list will be updated as more #BlackExcellence ensues.