Brands Want You to Drag Them on Twitter — It's How They Make Their Profits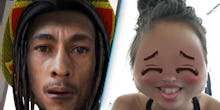 To the average person, a disgruntled tweetstorm might seem like something of a PR nightmare for any brand — but it's not the case. According to University of Northampton business and marketing professor Kathleen Mortimer, some brands purposely try to shock users and spark controversy in order to drive profits.
"Social media has encouraged companies to produce something controversial, which may appeal to the younger audience, who may then be happy to share the material online," Mortimer told the New Statesman.
The New Statesman pointed out that, while there's no way to know Snapchat's intentions, the popular photo- and video-sharing app has unlocked the secret to monetizing collective outrage. 
Last week, Snapchat released a new, so-called "anime-inspired" filter that angered users, who said it more-closely resembled racist Asian caricatures. Months before, the app rolled out a 420-themed filter, allowing users to sport a rastacap, dreadlocks and "digital blackface," according to Twitter users.
Mic — along with other publications — reported on both of these stories. And while such articles may serve to call out racism or other social injustices, at the same time they are proving an age-old adage: All press is good press.
Studies have shown a similar mechanism is at work in Donald Trump's campaign. Though the Republican nominee has complained about the media's bias against him, Trump's been able to skate by with $2 billion dollars of free press, saving him millions. And even though much of the coverage has exposed backlash against Trump, he's largely benefited from it. 
When it comes to brands, some of the most problematic campaigns — according to the court of public opinion — have also been the most profitable. 
Fitness brand Protein World gained recognition after its "beach body" ad campaign came under fire in April; Business Insider reported the once little-known company earned $1.5 million in four days.
Grace Sparapani, the Twitter user who was among the first to point out Snapchat's latest blunder, said in an email interview on Monday that she believes it's still important to hold brands accountable.
"It is easier for people ... to instruct consumers not to bother with these callouts as we are only playing into the corporation's hand," Sparapani wrote, referencing the New Statesman piece. "Why, I ask, is the point of that article to instruct us to stop trying, as opposed to still call out these brands for even using tactics like this in the first place?"
Eventually, Sparapani hopes major corporations take steps to create more thoughtful products and content rather than aiming to offend — and resorting to cries of "PC Police" when they get called out for it.
"I think the profiting off collective outrage is inevitable, at least at first," she said. "But I do hope that with enough people calling out brands, etc, and with attitudes moving forward, corporations will inevitably be held accountable."