Usain Bolt Sets His Sights on the 200m World Record After Winning Gold in the 100m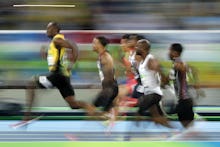 Jamaica's Usain Bolt is still the fastest man alive. On Monday, clinching his third consecutive Olympic gold medal in the 100-meter dash, the world record holder said he had high hopes for his next slated event: the 200-meter. 
The sprinter, who turns 30 on Aug. 21, currently owns the world record for the event, having run it in 19.19 seconds in 2009 — four days after he ran the world's fastest 100-meter in 9.58 seconds. 
But Bolt told reporters Monday night that, under the right circumstances, besting his own time in the 200-meter wouldn't be outside the realm of possibility. 
"I think if I can get a good night's rest after the semifinals, it's possible," he said, according to the Guardian.
The final race takes place Thursday, Aug. 18, at 9:30 p.m. Eastern. Bolt will run in his qualifying heat Tuesday morning. 
Winning the 200-meter would take Bolt one step closer to a "triple-triple" — three consecutive gold medals in the 100-meter, 200-meter and 4x100 relay (and yes, Bolt, along with his teammates at the 2012 games, set that record, too). If that happens, Bolt himself said it would propel him to a new level of superstardom.
"Someone said if I win these three gold medals I would be immortal and I kind of liked it," he told reporters. "So I'm going to run with that one."
Right now, the only person to come close to Bolt's 2009 record of 19.19 seconds is Jamaican teammate Yohan Blake, who ran a 19.26 in 2011, but Blake hasn't broken 20 seconds since 2013. American LaShawn Merritt's 19.74-second showing at the Olympic trials on July 8 was the fastest 200-meters run by anyone this year. 
"I came here to achieve three gold medals. I came to prove I'm one of the greats," Bolt said, according to India Today. "I wanted to set myself apart from everybody else and this is the Olympics and this is the place to do it."