St. Paul's Asks Federal Court to Release Names of Owen Labrie's Victim and Her Family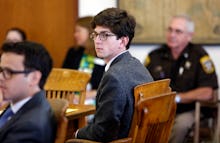 Owen Labrie, the former prep school student convicted of sexually assaulting a minor in 2014, may be out of jail — but his case is far from over.
In June, the parents of the student he sexually assaulted sued St. Paul's, the New Hampshire school where the incident occurred. Now St. Paul's is biting back, asking a U.S. district court to release the plaintiffs' names in the civil suit, according to the Boston Globe.
"Judicial proceedings are supposed to be open and transparent," the school's motion read, according to the Globe. St. Paul's reportedly accused the victim's family of leveraging the media to tarnish its "character, credibility and reputation" while hiding behind "a cloak of anonymity."
When the criminal case wrapped in August, 2015, Labrie was acquitted on three counts of felony sexual assault after a younger student accused him of raping her when she was a 15-year-old freshman and he was a senior. 
Labrie, now 20, dodged the more serious charges against him but was sent to prison for one year after being found guilty of having lured a minor into a sexual encounter, which is a felony, plus three charges of sexual assault and one charge of child endangerment — all misdemeanors. He was released on bail after two months.
The assault was allegedly the result of a St. Paul's tradition called the "Senior Salute," wherein graduating students vie to "score" with as many freshman as possible. What qualifies as scoring is, according to St. Paul alumnus Todd S. Purdum, vague. The practice, he explained in a March 2016 investigation for Vanity Fair, is something of an open secret. On many occasions when faculty members have complained about the senior salute, he wrote, the administration has exercised something like selective deafness.  
"I don't understand the culture of some of the adults there," an anonymous former faculty member told Purdum. "Somebody should have said, 'Senior salute? Not in our school.'"
As CBS News legal analyst Rikki Klieman told CBS This Morning Tuesday, the family is essentially accusing the school of having "condoned" rape culture — "a culture where minor women could be sexually assaulted by older men." 
The school, she said, could set a dangerous precedent in demanding that the victim and her parents' names be revealed years before the case goes to court. It could deter sexual assault victims from coming forward, she said. 
"They're a school," she told CBS This Morning, "and a school is supposed to be a place that nurtures their students, that's really why they have endured so much bad publicity here."