India's First Female Olympic Gymnast Dipa Karmakar Didn't Medal But Wins Hearts Anyway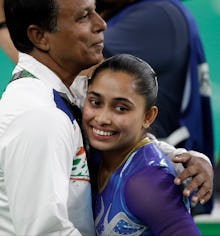 Dipa Karmakar didn't win any medals at the 2016 Rio Olympic Games, but she did something far better: she inspired the world.
On Sunday, people from across the globe saw the Indian gymnast place just shy 0.15 points from winning an Olympic bronze medal in the women's vault gymnastic competition. 
Karmakar, India's first female Olympic gymnast, was one of two female gymnasts at the Olympic Games to perform the Produnova vault, or "the vault of death," during the vault competition. Olympic gold medalist Simone Biles said she wouldn't even dare to attempt it.
"I'm not trying to die," Biles told the New Yorker when asked if she will perform the Produnova vault.
The infamous vault calls for a front handspring coming into the vaulting horse and then two somersaults coming off it.
Despite losing points for landing while sitting down on her dismount, she nailed it perfectly at the 2014 Commonwealth Games in Glasgow. She was the third woman ever to land the Produnova vault.
Karmakar's near-perfect Produnova vault is a testament of the long hard practices and the adversity she had to endure to make it this far.
In India, gymnastics is not a popular women's sport. Thus, there are a lack of facilities and gyms for training and a lack of funds from the government. According to the BBC, Karmakar wore poorly fitted leotard and no shoes at the first tournament she ever competed in.  
So it was no easy feat to make it to the 2016 Olympic Games and a near medal finish made her country proud:
Here's hoping that in four years, Karmakar will go for gold.