A 'Rogue One'-Themed Trailer for 'The Empire Strikes Back' Paints 'Empire' in a New Light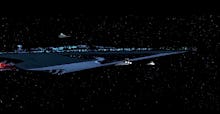 Have you, heaven forbid, watched the new trailer for Rogue One: A Star Wars Story so many times that it's become exhausting? Fear not: There's another way to get your Star Wars kicks ahead of the film's release in December — by revisiting the past.
A new mashup, created by YouTuber Medley Weaver, reveals what happens when you transpose the Rogue One trailer score and tone to The Empire Strikes Back. Weaver, who also did a Rogue One-A New Hope remix for the previous Rogue One trailer, draws some clever narrative lines between the characters from the original trilogy with that of the upcoming anthology film. 
Jyn Erso (Felicity Jones) speaking with grizzled war veteran Saw Gerrera (Forest Whitaker) has notable comparisons to Luke Skywalker's conversations with Yoda on Dagobah. Then there's C-3PO and Rogue One's extremely sassy new droid, K-2SO (voiced by Alan Tudyk, who both like to tell people the odds (especially when those odds are pretty bleak). 
"There is a 96.7% chance of failure," per K-2SO, is poetically similar to C-3PO's morose line, "Sir, the possibility of successfully navigating an asteroid field is approximately 3,720 to 1." 
Of course, no compilation of Empire is complete without an image of Darth Vader, who makes his own brief appearance in the Rogue One trailer, which blew the internet's mind. (Imagine how Twitter would react to the Darth Vader parentage reveal.) 
Watch the Rogue One-Empire mashup below.