This is the easiest salmon recipe ever, soon to become your favorite weeknight dinner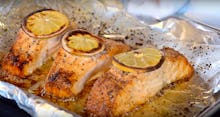 Cooking fish at home doesn't have to be scary, or terribly smelly. Though seafood is often deemed "restaurant food" by many, making salmon at home is no harder than any other home cooking. Worried about the smell? As long as the fish is fresh (or freshly frozen), cooking salmon with this recipe shouldn't leave the house smelling at all fishy. 
This recipe from New York's Fulton Fish Market, the second biggest seafood vendor in the world, is pretty much impossible to mess up. In fact, it's barely a recipe at all. If you've ever used an oven, you can succeed at this recipe. 
You will need:
• Three 6-oz. salmon filets
• Lemon, cut into rounds
• Salt and pepper
• Olive oil
That's it! Now you're making salmon!
Instructions:
• Preheat your oven to 375 degrees. 
• Line a pan with tin foil and spread olive oil on top. 
• Place your salmon filets on the lined pan. Garnish with salt and pepper. 
• Top each fillet with a lemon round. When cooking, the juices will seep into the fish. 
Bake for 6-8 minutes. In the last minute, change your oven from bake to broil and move the salmon pan up to the top rack. This will caramelize all the flavors on top and make your salmon the restaurant-style creation you've been dreaming of. 
And voila, you made salmon and didn't mess it up!