Prophets of Rage Announce Debut EP 'The Party's Over' Coming August 25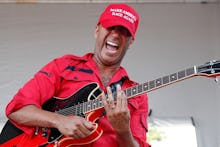 Earlier this year, three of the most revolutionary groups in '90s hip-hop — Rage Against the Machine, Cyprus Hill and Public Enemy — joined forces to "Make America Rage Again." The instrumentalists from Rage Against the Machine linked up with Public Enemy's Chuck D and Cypress Hill's B-Real back in May, citing a lack of acts dedicated to truly disrupting this year's election cycle.
Three months after forming, they've announced their debut project: The Party's Over, a five-song EP that will be released August 25. The album features the previously shared "Prophets of Rage" remix of the original Public Enemy song, along with a new single called "The Party's Over" and three live cuts.
The Prophets of Rage have been using their live concerts to make cutting political statements. As a tribute to Rage Against the Machine's controversial concert and flash protest outside of the 2008 Republican National Convention, the Prophets of Rage performed a half-mile from this year's RNC in Cleveland's Public Square. 
"We're not here to bring Donald Trump a message," Tom Morello, the band's guitarist said, according to Blabbermouth. "We're here to put wind in the sails of the people standing up against his message."
More recently, the band played outside of a state prison in Norco, California, after a concert slated to take place inside the walls was cancelled last minute. "We got shut down because the powers that be in Sacramento thought we were going to try and incite some kind of racial riot," drummer Brad Wilk explained to Rolling Stone before the impromptu set. "It just really sucks because anytime we can have an opportunity to play in front of people and inspire people in a positive manner ... is always a good thing. That was taken away today."
Capturing these revolutionary messages, which have thus far been amplified tremendously by their location and context, in wax will not be an easy task. Perhaps that is behind the choice to have over half the album consist of live recordings. Either way, watching the veteran musicians try will be an interesting draw in its own right
Check out the tracklist and listen to the album's lead single "Prophets of Rage" below.
1. Prophets of Rage