Chicago Cubs DJ Played "Smack My Bitch Up" for Accused Domestic Abuser Aroldis Chapman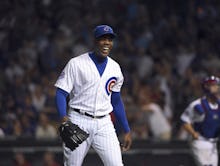 A DJ at Chicago's Wrigley Field has been fired after he chose to play The Prodigy's 1997 song "Smack My Bitch Up" as Cubs pitcher Aroldis Chapman walked off the mound during the ninth inning of a game against the St. Louis Cardinals.
According to Bleacher Report, the inappropriate choice of song was compounded by the fact Chapman has a history of domestic abuse. 
In 2015, Chapman allegedly choked his girlfriend and fired a gun into the air to intimidate her, resulting in a 30-game suspension from Major League Baseball in March 2016 (Chapman maintains that he "never hurt" his girlfriend, and police closed their investigation in December 2015 citing a lack of evidence). 
Chapman's suspension under the MLB's Joint Domestic Violence, Sexual Assault and Child Abuse policy was the first such suspension in league history. 
ESPN reporter Jesse Rogers posted a statement from the team's management to Twitter in which the Cubs called the selection of music "irresponsible" and said it showed a "lack of judgment and sensitivity to an important issue." 
"We have terminated our relationship with the employee responsible for making the selection and will be implementing stronger controls to review and approve music before public broadcast during our games," the statement read.
The new policy was put into place to offset a long history of players committing acts of domestic violence and the league turning a blind eye. "At no time in the last quarter of a century has there been a commissioner-level sanctioning of any player for domestic violence, and most teams haven't bothered either," SB Nation's Mike Bates wrote in July 2014.
Not everyone felt the Cubs actions were adequate in addressing the issue. On Twitter, some users decried what they saw as hypocrisy, terminating the DJ while continuing to employ Chapman despite the allegations of violence against women.